SPRING PRODUCTION
Hamlet
MAY 30 – JUNE 22, 2019
Tickets are on sale NOW! Buy yours online here or call our Box Office during box office hours 204-891-9160.
Venue: Trappist Monastery Provincial Heritage Park (aka "The Ruins")
Directed by Rodrigo Beilfuss
Prince Hamlet has it all: youth, wealth, and freedom. Then his father dies, his mother marries his uncle and he loses the right to the crown. Returning home from college, he finds his country a foreign land and the ghost of his father trapped in limbo. Will the Prince conform to his new reality, or will he rage against the machine?
Shakespeare's most popular play and the touchstone of English classical theatre, HAMLET is reinvented for the 21st century with a woman in the title role, a dynamic and diverse cast and a drummer scoring the show live. With this most canonical of all Ghost stories, we are set to face the big questions of Life and Death under the vast openness of the Prairie sky.
Teachers: If you would like to bring your class to see this production we have special performances just for schools! email us at admin@sirmb.ca for more information!
FALL TOUR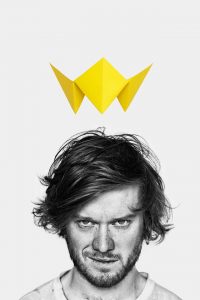 Macbeth Muet
FALL SCHOOL TOUR: Oct & Nov 2019
PUBLIC PERFORMANCES: Nov 12 – 16, 2019 (venue to be determined)
Directed by Jon Lachlan Stewart
A special partnership with Montreal-based theatre company La Fille Du Laitier.
Performed entirely without words, Macbeth Muet completely deconstructs this Shakespeare Tragedy into a fastpaced, visceral theatre experience, using the body, objects as imagery, and a ton of fake blood. Entire scenes are reduced to a single look, as Shakespeare's complex and beautiful poetry is rendered mute, and searing. This unique and crowd-pleasing show was an enormous hit at the 2017 Winnipeg Fringe Festival. As well as traveling to schools in Manitoba, Saskatchewan, and Ontario, there will also be a number of public shows in Winnipeg. Stay tuned for full details later this year!
click here to see more information about La Fille Du Laitier.
Teachers: BOOK NOW! If you would like more information about booking this tour for your class in Fall 2019 please email us at admin@sirmb.ca.