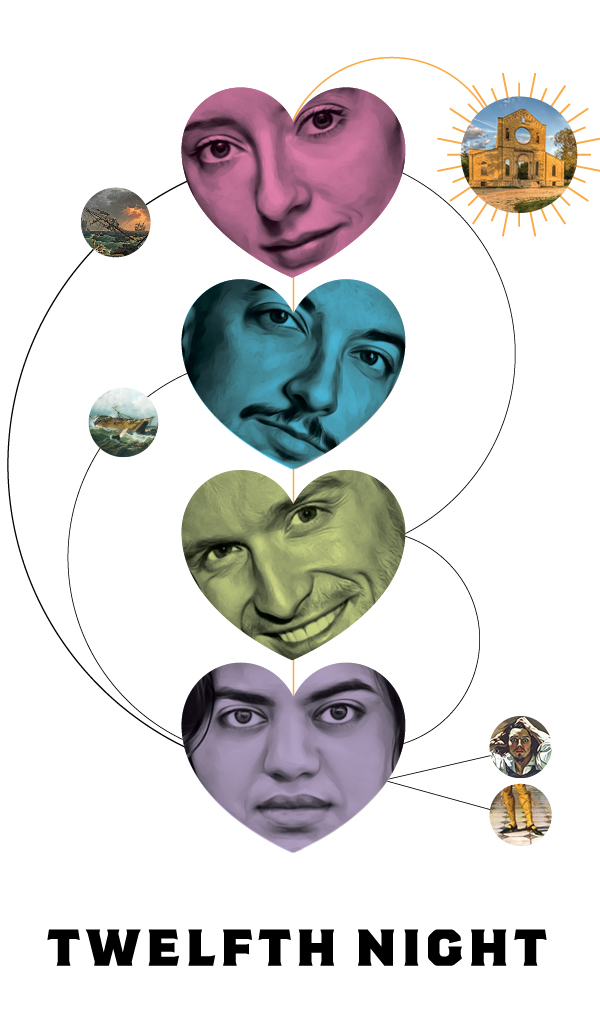 TWELFTH NIGHT
Written by William Shakespeare
June 1 – July 1 | 2023
The incredibly popular  Twelfth Night, which hadn't  been performed at the Ruins since 1997, is arguably Shakespeare's finest comedy, filled with revelry and longing. This joyous 2023 production, directed by Christopher Brauer (of The Three Musketeers at the RMTC), reimagines our players as 'rogue youths' who occupy the Ruins and throw huge, delightful dance parties around the park…but things get serious when love, a deep desire for belonging and the pursuit of justice get in the way – a coming of age tale for our times. National Theatre School graduate and Shaw Festival actor Anaka Sandhu plays Viola, while Darren Martens (Aramis in The Three Musketeers at the RMTC) plays the lyrical and love obsessed Orsino. Let all be swept up by music and laughs!  
Performed at The Ruins @ Trappist Monastery Provincial Heritage Park
Twelfth Night Program
2023 Twelfth Night program

Director Christopher Brauer and SIR's own Rodrigo Beilfuss nerd out on Twelfth Night, Shakespeare and Promenade Theatre.
Cast
Andrea del Campo  Sir Toby / Priest
Victoria Emilie Hill  Olivia / Officer
Tom Keenan  Malvolio / Valentine
Melissa Langdon  Sir Andrew
Darren Martens  Orsino / Fabian
Hera Nalam  Feste / Antonia / Captain
Anaka Maharaj – Sandhu  Viola
Elio Zarrillo   Sebastian / Maria / Officer
Artistic & Technical Team
Christopher Brauer / Director
Adam Parboosingh  / Set & Props Design
Daina Leitold  / Costume Design
Matt Peters & Matt Schellenberg / Sound Design & Composition
Tom Soares / Text Coach
Shannon Guile / Fight Director
Julia Anderson / Scenery Design Assistant
Steven Vande Vyvere / Production Manager & Running Crew
Cari Simpson / Technical Director & Running Crew
Katie Hoppa  / Stage Manager
Ridge Romanishen / Supplemental Stage Manager
Sarah Lamoureux / Apprentice Stage Manager
Rachel Baziuk / Props & Set Coordinator
Kate George / Wardrobe Coordinator
Heather Russell-Smith / Volunteer Cast Consultant