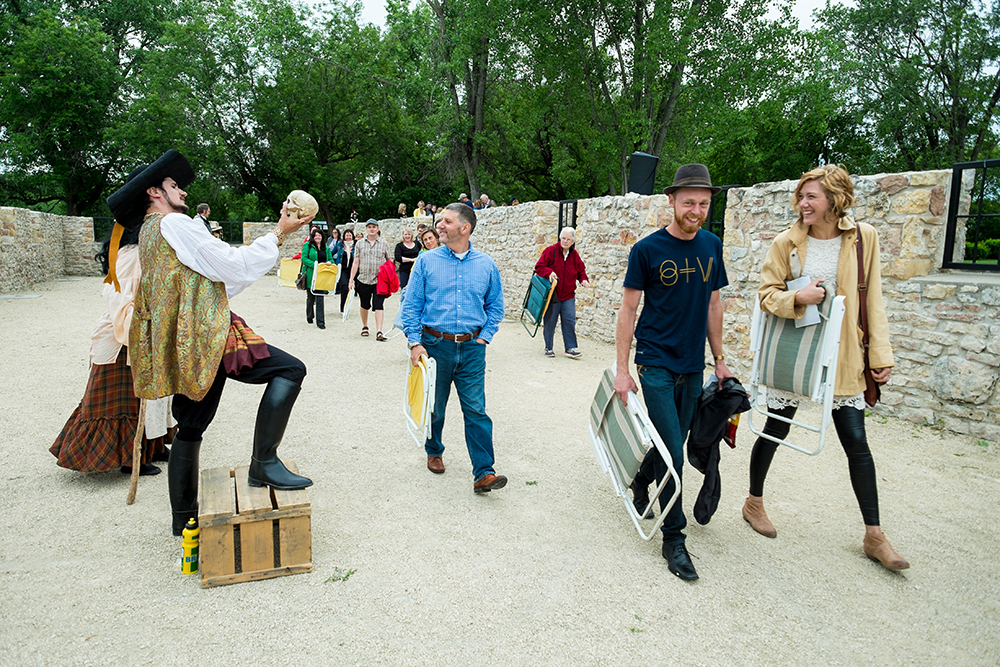 About
Shakespeare in the Ruins (SIR) is located on Treaty 1 Territory, and is the only professional theatre company in Manitoba dedicated to producing and revitalizing the works of William Shakespeare.
Every spring we perform our signature promenade style of theatre under the prairie sky at the Trappist Monastery Provincial Heritage Park, or as we lovingly call it "The Ruins."
For more information about the History of our company click HERE.
For more information about our Outreach & Educational programming click HERE.
Mission Statement 
Shakespeare in the Ruins (SIR) exists to spotlight the enduring power of classical theatre through the contemporary human experience.
Mandate                                                                                           
Shakespeare in the Ruins, Inc. is a theatre company dedicated to:
The production of plays, particularly the works of Shakespeare
The creation/development/presentation of Shakespeare adjacent new work
The use of non-traditional casting and environmental staging
Creating opportunities for the development and growth of theatre artists in Manitoba
Engaging with and enhancing our community
Profile
Shakespeare's words connect us across the barriers of time, culture and status.
As Manitoba's premier classical company since 1993, SIR bears the responsibility of unearthing and reimaging texts that might otherwise be forgotten. Additionally, we aim to give Manitobans the opportunity to bring our own cultural trademark to the plays of that rich repertoire.
Moreover, SIR does more than put on plays: we give people a full sensory experience.  Audiences don't go to the Ruins exclusively to see Shakespeare: they want to explore the Trappist Heritage Park and feel inspired by the beauty of Nature. In our productions, the rich imagery of Shakespeare's words meets the astonishing imagery of the surroundings. Indeed, it is through that unique combination that the company thrives in making Shakespeare our own.
In other words, SIR is woven into the fabric of Manitoban history; and we aim to reflect ourselves in Shakespeare's timeless works, exploring our rich cultural diversity and contemporary complexities.
SIR seeks to establish a genuine connection between performers and audiences, fostering a life-long love of theatre.
Finally, rather than providing an escape from current events, we center our work inside the realities of our times; bridging the gap between Shakespeare and us; giving audiences a broader perspective and a deeper understanding of his works – as well as a really, really good time.
Values
At SIR, we believe collaboration, creativity and courage are our most valuable and enduring assets – for our company and our world. We place a high value on cooperation, transparency and honesty; and the equitable sharing of our gifts. As in our performances, we prize communications, which are direct, intimate and filled with clarity.