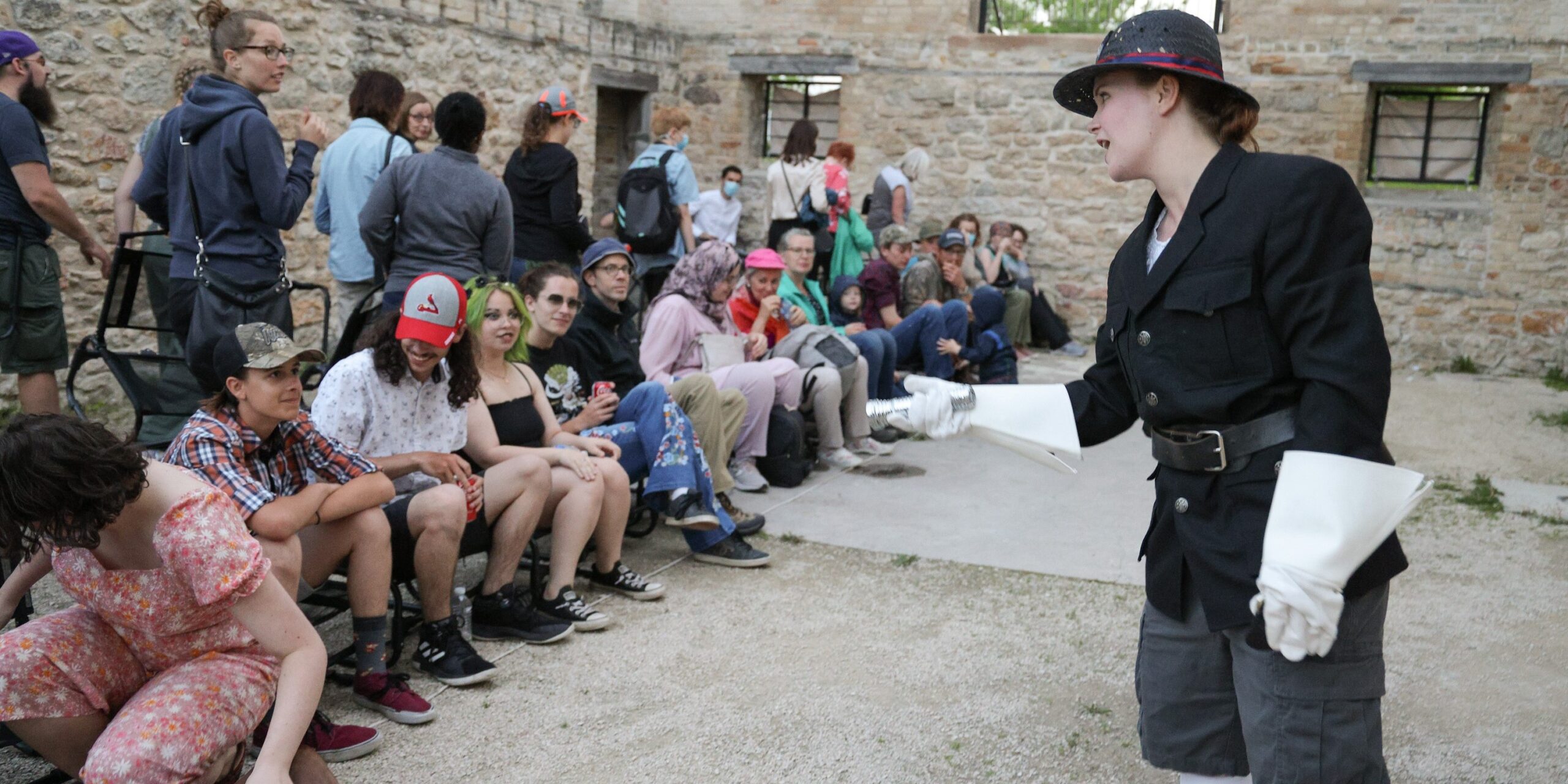 What is the Shakespeare in the Ruins experience? 
Shakespeare in the Ruins is a unique theatre experience located on Treaty 1 Territory. Every Spring, we perform our signature promenade-style of theatre under the prairie sky at the Trappist Monastery Provincial Heritage Park, or as we lovingly call it "The Ruins."
In promenade-style theatre the audience follows the actors through different scenes, set in different areas of the Ruins. As this experience may not be accessible to all patrons, we also present "In the Grove" performances which are stationary and wheelchair accessible. 
Please see our accessibility page for more information on Access 2 passes, Accessible Transit, Pay What You Can Tuesdays, and Accessible Washrooms by CLICKING HERE.  
How do I purchase tickets? 
Tickets are available for purchase on our website 24 hours a day.  CLICK HERE to purchase your tickets online. 
Tickets may also be purchased over the phone through our box office 204-891-9160, Monday to Friday between 10:00 am and 2:00 pm
Questions? Email boxoffice@sirmb.ca
I've purchased tickets, now what? 
You should have received a link to your digital ticket in your email. (Check your junk mail!) However, if a digital ticket is not received, worry not, patrons need only provide the name tickets were booked under at the box office for entry. 
What does "Fixed-Income" mean; do I qualify for this discount?
In an effort to make our performances accessible to everyone, we have expanded the umbrella of those who qualify for our discount admission. The discount admission is available for patrons Under 30, those who work in the theatre industry, and those who are under-employed or living on a fixed-income. If you are living on a monthly stipend or pension, you qualify for the discount admission.
Where can I buy tickets for Pay What You Can Tuesday performances? 
Pay What You Can (PWYC) tickets are only available in person at the box office at the Ruins. 30 tickets are held at the door for PWYC patrons.
Where are the Ruins? 
The 'Ruins', as we lovingly call them, or The Trappist Monastery Heritage Provincial Park is located in St. Norbert, Manitoba at 100 Ruines du Monastere St. 
Drive south on Pembina Hwy past the St. Norbert Farmer's Market. Turn right at the lights before the bridge onto Rue des Trappistes. Turn left on Ruines du Monastere St.
You can't miss us! 
CLICK HERE for a map and pictures of the Ruins.
Are seats general or assigned? 
Seating is general.
Do I need to bring a chair?
No, we provide collapsible, tall AND short chairs for the performance. Patrons are welcome to bring their own chair if required for accessibility reasons. 
Are kids free?
Children 5 and under are free (as long as they sit in your lap.)
Is the park/show wheelchair accessible?
Parts of the park are wheelchair accessible. The Ruins are accessible and there are accessible washrooms on site, but the promenade experience can provide some challenges for wheelchair and walker users. People with motorized wheelchairs are often able to take part in the promenade experience, other mobility-device users may find the terrain difficult to navigate or too "bumpy" for comfort. It really depends on the user.
To address mobility barriers we've created In the Grove performances which are stationary. For a complete schedule of In the Grove performances see our accessibility page by CLICKING HERE.
I've got tickets for tomorrow's performance, but there is rain in the forecast. Will the show go on?
Shakespeare in the Ruins does not cancel a performance due to rain in the forecast. We perform in mild and moderate rain, and audience members should come prepared to watch a show in these conditions. (Rain boots recommended!)
We only cancel a performance if there is thunder and lightning overhead OR rain and wind are so loud our actors cannot be heard.
Please dress appropriately for the weather, as the show must go on!
The show I have tickets for was rained out or cancelled. What do I do now?
For our 2023 Season, Shakespeare in the Ruins has implemented "Rain Dates." Rain date shows are always Sunday evenings at 7:30pm.  When you buy your ticket/s, you are encouraged to mark your performances rain date on your calendar as well. In the event that extreme weather causes your performance to be cancelled, your tickets will automatically be transferred to the following rain date. In the event that more than one performance during a week is cancelled, our box office will do our best to accommodate all ticket holders at the rain date.