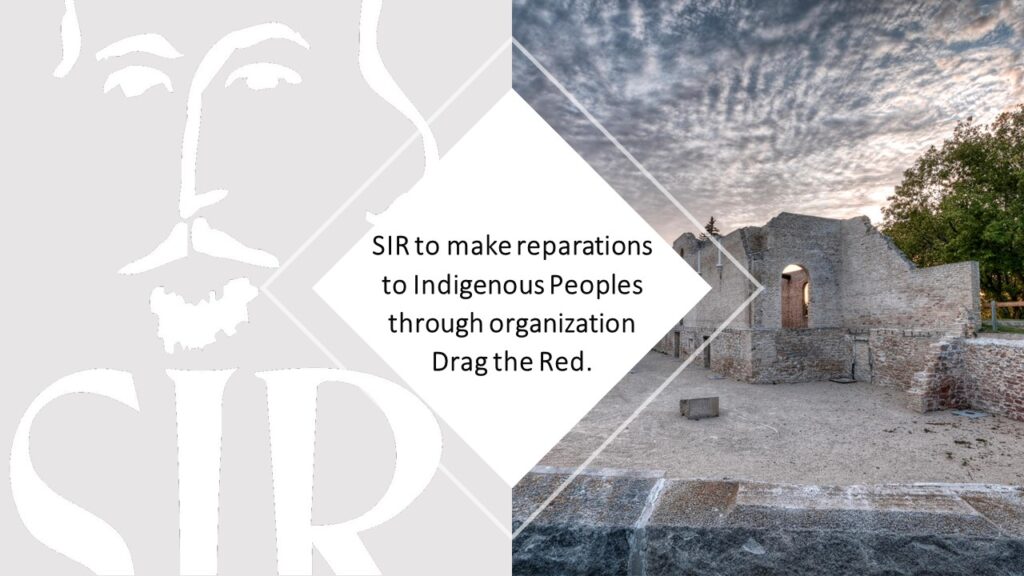 In consideration of the MMIWG2S crisis in Canada, and our seasonal theatre's location near the Red River, Shakespeare in the Ruins (SIR) is making an on-going commitment to reparations.*
This is a multi-year commitment, based on our annual revenue that will see the organization donating to Drag the Red, a local, community-based, Indigenous lead organization that searches for the murdered and the missing in Winnipeg's Red River.
In 2022, this donation was $4000, which represents approximately 1% of Shakespeare in the Ruins revenue for the year.
Drag the Red is an Indigenous-led initiative funded through partnership and donations and run by volunteers. It was founded in 2014 in response to the discovery of Tina Fontaine's remains, an Indigenous child murdered in Winnipeg and found in the Red River. They search to recover community member's remains and evidence in murders and disappearances in the Red River to address Canada's epidemic level of missing and murdered Indigenous women, girls, and 2 Spirit people (MMIWG2S).
Since 2018 SIR's board and management team have prioritized consultation, education, and action to reconciliation, reparation, equity, and responsible story telling.
Says General Manager, Sara Malabar, "Part of the contemporary human experience is living in a modern world reckoning with the effects of colonialism. MMIWG2S, and the lack of social and political action to remedy this ongoing crisis, is a direct result of historical and modern colonialism. The board and management team at SIR are acutely aware of this and looked to form a meaningful relationship with an Indigenous-led organization."
SIR's seasonal theatre venue is the Trappist Monastery Provincial Heritage Park, aka "The Ruins" in St. Norbert – Treaty 1 land and a historic Red River Metis community – that sits on the banks of the La Salle River close to where it meets the Red.
Assistant General Manager, Seraph-Eden Boroditsky adds, "Contributing funds to this vital community service is a no-brainer. We are all Treaty people on Treaty 1 Land, and we all use the Red River for recreation, are taught about its historical significance to the creation of our beloved "river city" and draw from it a sense of local identity. We look to a future where searching for victims in the Red is no longer necessary, but until then, as individuals and a company we will take whatever responsibility we can to help locate people's loved ones and bring them home."
Board Chairs Joanne Zuk & Michal Grajewski add, "Reparations is not simply a line item in our budget, it's a way to acknowledge truth, take responsibility, and put our values into action."
*SIR understands reparations as monetary or other compensation owed to Indigenous & Black people and communities for the historical impacts of Colonization & Enslavement.
For more information about Drag the Red, to make a donation, or to get in touch, check them out on Facebook: https://www.facebook.com/groups/dragtheredwpg/
Or email: Bernadette Smith at bsmith_772@msn.com