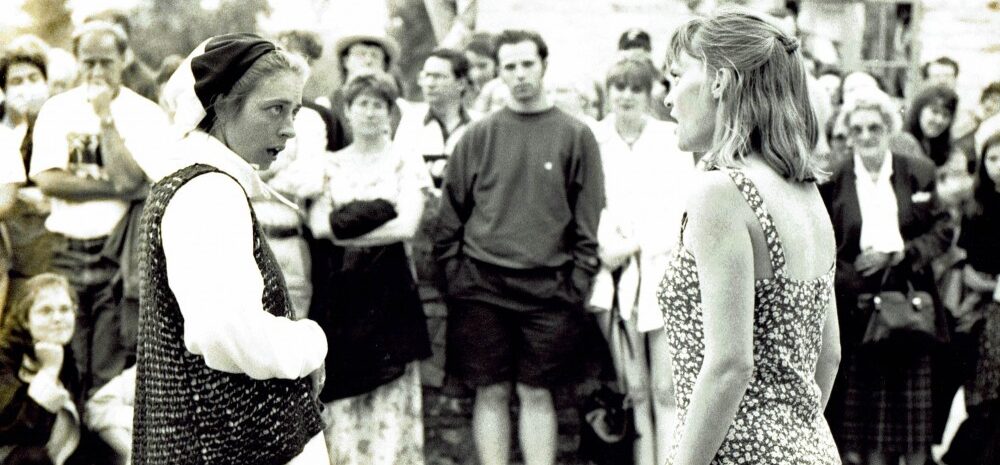 History
Shakespeare in the Ruins (SIR) is a professional Canadian theatre company that is best known for presenting Shakespeare outdoors in unique settings.
TIMELINE
1993 – With little more than a unique vision and a spirit of adventure, a small group of Manitoba theatre artists come together to create a Shakespearean theatre company around the crumbling walls of the Trappist Monastery Ruins in St. Norbert, Manitoba that would inspire the company's name.
The original founding company included: Derek Aasland; Michelle Boulet; B. Pat Burns; Lee J. Campbell; Matt Moreau; Maggie Nagle; Debbie Patterson; Gene Pyrz; Lora Schroeder; Marc Beaudry; Katie R. East; Ann Hodges; Grant Guy; Arne MacPherson; Rick McPherson and Rick Skene.
Shakespeare in the Ruins was born!
May 1994 – SIR's inaugural performance of Romeo and Juliet premiered, featuring unique, promenade style performance and casting open to all genders and cultural experiences – a tradition we continue to this day.
2000 – The world premiere of Rick Chafe's stage adaptation of Homer's classic epic poem The Odyssey hits the stage at The Ruins.
2002 – SIR partner's with Royal Manitoba Theatre Centre to bring The Threepenny Opera to the John Hirsch Mainstage as part of BrechtFest.
2002 – Sadly, SIR was required to vacate the Trappist Monastery Ruins due to the building deteriorating and becoming unsafe to perform in and around.
2003 – Our infamous Romeo & Juliet on the parkade rooftop premieres.
2004 – SIR begins touring. Our first touring production is "Stripped-Down Macbeth".
2006 – The world premier of Artistic Associate Debbie Patterson's musical Head.
2011 – We partner with Winnipeg Harvest and provide free family drama classes. "Shakespeare in the City" is born!
2012 – SIR finally returns home to the refurbished Trappist Monastery Ruins in St. Norbert for our production of Henry V. It's good to be home!
2016 – After 3 years of advocating, we are finally granted access to teach inmates Shakespeare in Stony Mountain Penitentiary. "Shakespeare in Stony Mountain" is born!
2018 – For our 25th anniversary we produce the little known (and according to the RSC, guaranteed to lose money at the box office) Timon of Athens. Thankfully we didn't lose money at the box office and Timon of Athens goes on to be nominated for 5 Winnipeg Theatre Awards and win 2 (outstanding director Michelle Boulet and outstanding performance by an actress Sarah Constible as Timon)
2019 – Rodrigo Beilfuss is hired as SIR's new Artistic Director. He is the first person in SIR history to hold the job who is not an Artistic Associate.
The challenges SIR faces under his leadership are multifaceted: a global pandemic, socio-cultural transformations, the climate crisis and the complexity of keeping Shakespeare alive and relevant in the 21st century.