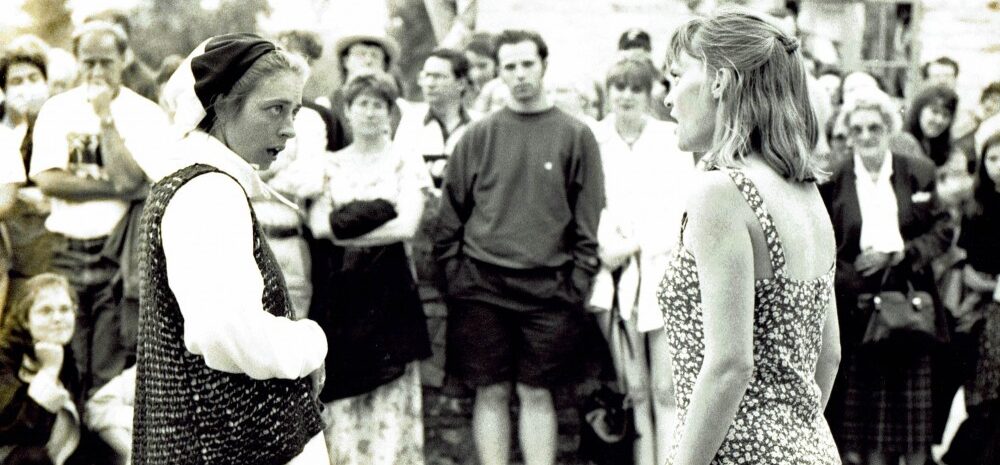 History
Shakespeare in the Ruins originated in 1993 with Lora Schroeder – a Winnipeg actor and playwright, Ann Hodges – Winnipeg director and graduate of the National Theatre School program, and B. Pat Burns – a Winnipeg actor, director and theatre instructor. The original founding company included: Derek Aasland; Michelle Boulet; B. Pat Burns; Lee J. Campbell; Matt Moreau; Maggie Nagle; Debbie Patterson; Gene Pyrz; Lora Schroeder; Marc Beaudry; Katie R. East; Ann Hodges; Grant Guy; Arne MacPherson; Rick McPherson and Rick Skene.  Incorporating the unique environment of the Trappist Monastery Provincial Heritage Park; promenade-style audience movement; cross-gendered, multiple-role casting and a dynamic, text-oriented style of performance with a focus on creating an immediate, intimate relationship with our audience the inaugural performance of Romeo and Juliet set the template for what has continued to be SIR's approach to the works of William Shakespeare to this day.
Initially functioning as an Equity Co-op, SIR was incorporated in 1995 and a board of directors was formed. Shakespeare in the Ruins operated under the Independent Theatre Agreement until joining PACT (the Professional Association of Canadian Theatres) in 2014.  Our artistic programming was directed by a passionate ensemble of artists until a shift in 2016 when we appointed a full time Artistic Director to independently drive the artistic vision of the company with a group of artistic associates in an advisory capacity.
The adventurous spirit that drives SIR has led us to perform in places well beyond the Trappist Monastery Provincial Heritage Park Ruins, including productions on Winnipeg's Dreman Building parkade rooftop, Gaboury-Lagimodiere Park in St. Boniface, and Assiniboine Park.  In addition to working our way through the Bard's canon with our annual spring Main Stage production, SIR has developed and performed unique one-hour, four-actor touring productions including: Stripped-Down Macbeth; Stripped-Down Romeo & Juliet; Stripped-Down Hamlet; and A Stripped-Down Midsummer Night's Dream. These productions have traveled to high schools throughout Manitoba, Western Ontario and Eastern Saskatchewan.
In addition to promoting and producing Shakespeare's plays, SIR has a proud history of developing and presenting new works by Manitoba playwrights. This includes the world premier of The Odyssey by Rick Chafe (2000) and Head by Debbie Patterson (2006). These plays share some aspects with Shakespeare's works (historical and cultural significance; grand themes; etc.), but, more pertinently to SIR, they offer wonderful opportunities for a large cast of actors and plenty of room for inventive staging.
Shakespeare in the Ruins is at the epicenter of Winnipeg's classic live-theatre scene.  Proudly promoting the work of William Shakespeare to entertain, engage and educate audiences since 1993.  Shakespeare in the Ruins remains true to our founders' vision.  Through the extraordinary writing and art of Shakespeare the Company creates opportunities to establish genuine connections between performers and audiences, and in doing so fostering a life-long love of theatre.