Shakespeare's Will
Streamed November 19 – December 12 | 2021
A Shakespeare in the Ruins Digital Production 
SHAKESPEARE'S WILL, by Vern Thiessen – a digital production
Based on the 2020 ShakespeareFest production by Rory Runnells 
Meet Anne Hathaway, Shakespeare's wife. Anne is mourning her husband, avoiding reading his will and, instead, she unpacks their whole relationship before our eyes – from the day they met to the day he died, revealing secrets and passions. This beautiful, cheeky and sensual play is a poetic meditation on love and loss by one of Canada's most soulful playwrights.
This production makes imaginative use of a style of storytelling called 'object theatre', as multiple characters are 'played' by rocks and sticks as if they were lively puppets, all skillfully manipulated by Patterson; and a large sand box (from where the characters emerge) serves as the inventive design centre-piece. You have never seen theatre quite like this before; and you will never think of Shakespeare quite in the same away. 
"(Vern) Thiessen takes the sketchy outline of Hathaway's life out from under her husband's formidable shadow and creates a gem of a play that's part fact, part fiction, and pure theatre." — Quill & Quire 
Filmed on location at the PRAIRIE THEATRE EXCHANGE Mainstage in Treaty 1 – Winnipeg, Manitoba.
CLOSED CAPTIONS IN ENGLISH, FRENCH, SPANISH, PORTUGUESE, TAGALOG, HINDI AND MANDARIN. 
AUDIO DESCRIPTIONS IN ENGLISH AND FRENCH.
TICKETS – Pay What You Choose: $1, $5 or $10 + Service charges
Have any questions about ordering tickets? Check our FREQUENTLY ASKED QUESTIONS page for further details.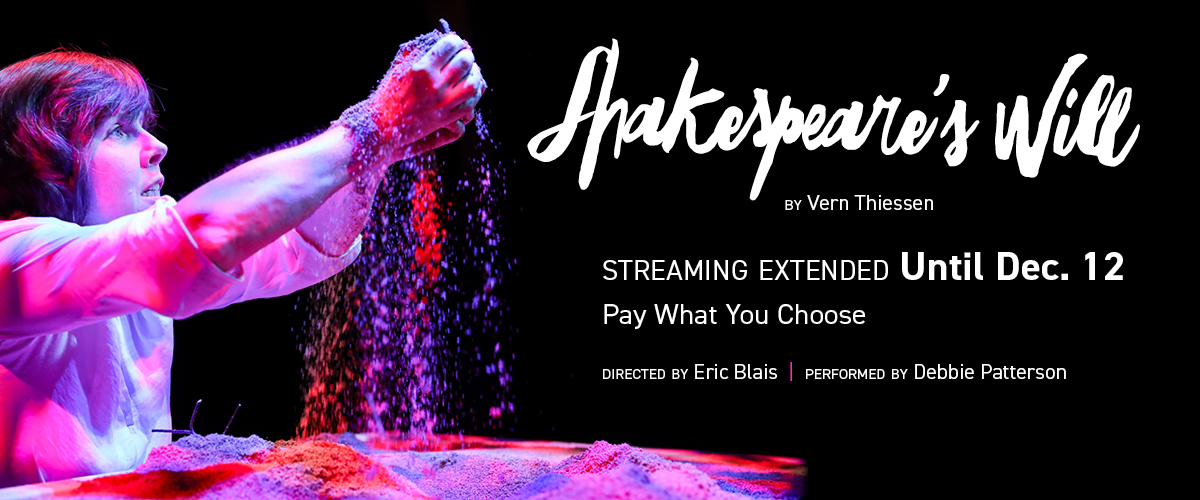 Cast
Anne Hathaway / Debbie Patterson
Artistic and Production Team
Written by / Vern Thiessen
Directed by / Eric Blais
Costume Design / Debbie Paterson & Eric Blais
Props Design / Eric Blais & Heather Lee Brereton
Scenic Design / Adam Parboosingh
Scenic Design Assistant / Joyce Licup
Sound Design / Ridge Romanishen & Chris Coyne
Light Design / Hugh Conacher
Production Manager / Hugh Conacher
Stage Manager / Ridge Romanishen
Props & Wardrobe Coordinator / Heather Lee Brereton
Scenic Carpenter / Khaeler Bautista
Production Photos / Leif Norman
Film Director / Sam Vint
Camera Operators / Tyler Funk, Rudy Gauer
Audio Mixer / Chris Coyne
Editor / Jonathan Lê
Audio Description provided by Vocal Image Ensemble Winnipeg
Translation and subtitling provided by PARENTY REITMEIER, INC.
Shakespeare's Will Poster download
Download a Souvenir poster