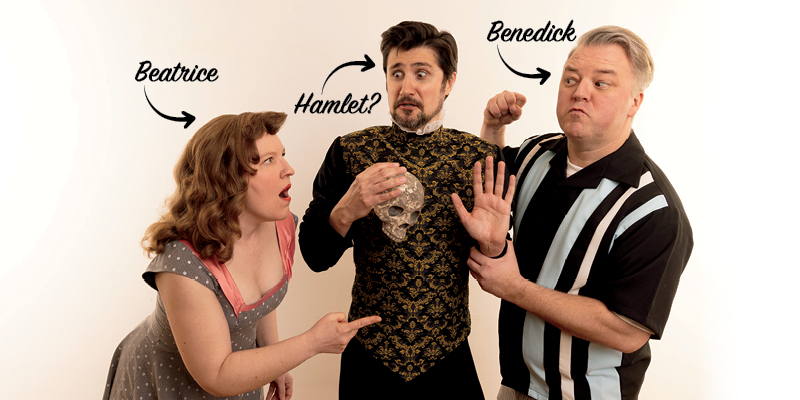 This year, to celebrate our return to the Ruins for live theatre after two seasons away, SIR will offer TWO productions playing in repertory – alternating on selected dates – between June 02 and July 02: Much Ado About Nothing, directed by SIR-founder Ann Hodges, and the solo play The Player King, a "hilarious new tragedy", written and directed by national comedy star Ron Pederson, and starring Rodrigo Beilfuss.
Much Ado About Nothing is one of Shakespeare's most delightful comedies, featuring two of his best quarreling lovers, Beatrice and Benedick – who passionately quibble their way into falling madly in love in a world of misinformation, fake news and dangerous lies.
In The Player King, a travelling Shakespearean actor finds himself facing an opening night audience without his company, setting off an existential crisis of tragic proportions. Can the show go on? Should it? Compelled by the power of storytelling, he attempts to deliver a solo version of Hamlet, but something is deeply amiss as fantasy and reality start to blend in this celebration of theatrical obsessions, and the quest for the performance of a lifetime…even to the edge of doom.
Our Artistic Director, Rodrigo Beilfuss, interviewed both directors ahead of rehearsals. Read on to get a glimpse of their process as they prepare to bring these two shows to life.