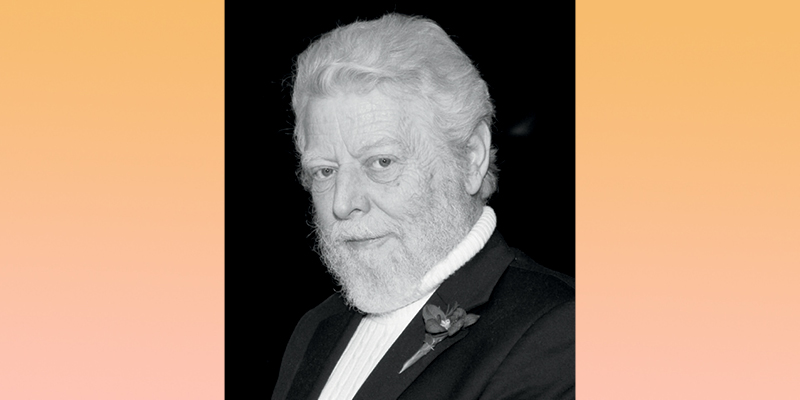 It seems like only yesterday that Jim was teasing us about not having seen the movie "To Sir, with Love". It was a "dad-joke" that he never tired of. How could we not know that movie? It also seems like only yesterday when all of us here at SIR were stunned by the news of the sudden passing of our dear friend and most staunch supporter Mr. Jim Gibbs. Jim was involved with our organization since year one, both as a volunteer and generous donor. He saw every show and attended every fundraiser.
Though it has been a few years since Jim passed, he was such a force that his presence is still with us today at SIR through our relationship with his family. Jim's dedication to the arts, particularly theatre in Winnipeg, was so strong that his family took up some of the mantle to continue his generous philanthropy. We continue to have a close relationship with his two brothers – whom we call and write to and sometimes road trip to visit. Having them in our lives keeps Jim alive as much for us as it does for them, we think.
And while his loss is felt every single day, we know we are not alone in missing him.
You would be hard pressed to find a theatre company in Winnipeg that did not benefit from his passionate support. From the Fringe Festival and The Royal Manitoba Theatre Centre to local indie company Theatre by the River, Jim's support was instrumental to the thriving theatre culture here in our city. And his impact was not only felt in theatre companies, but also in the teaching institutions. The green room at the new Black Theatre at the U of M campus is named The Sharon Greening Green Room–after his late wife.
"It is hard to know what to say about Jim. He was such an important, welcome and near ubiquitous presence in Winnipeg Theatre. I always looked forward to seeing Jim at a play, knowing that I was going to have a long talk, but a good long talk with someone who really cared. Even though most would have known Jim by his presence at the theatre (as I did), I didn't come to know until later, on boards, at the U of M, how important a presence Jim was behind the scenes. His support of theatre both with extremely generous gifts and insightful feedback was critical to many. He was a person who knew how to get things done and who walked the walk in order to get them done. I would love to have another good long talk with him."
– Bill Kerr, Department Head, Black Hole Theatre
"Jim was our first major donor and he worked with us to put a campaign together to begin an endowment fund. Jim recognized the incredible financial challenges independent companies faced without access to operational funding, and did what he could to provide a stable form of income we could use each year as a foundation. Jim loved theatre and his passion for the art form was infectious. Everytime we were frustrated, he was there to remind us of the impact of our shows and to encourage us to keep moving forward. We miss you, Jim!"
– Mel Marginet, Artistic Director, Theatre by the River
In 2008, Jim was instrumental in establishing SIR's Endowment Fund. Growing a fund to create sustainable income for a non-profit was an idea at the cornerstone of what Jim was all about.
To honour Jim, and his memory, SIR and the Gibb's Family have created a sub fund called The Jim Gibb's Endowment Fund for Shakespeare in The Ruins at The Winnipeg Foundation. If you would like to join us in remembering Jim and his love for SIR, please consider a donation into this fund. For more information about donating to this fund please call the office at 204.957.1753 or donate online now.