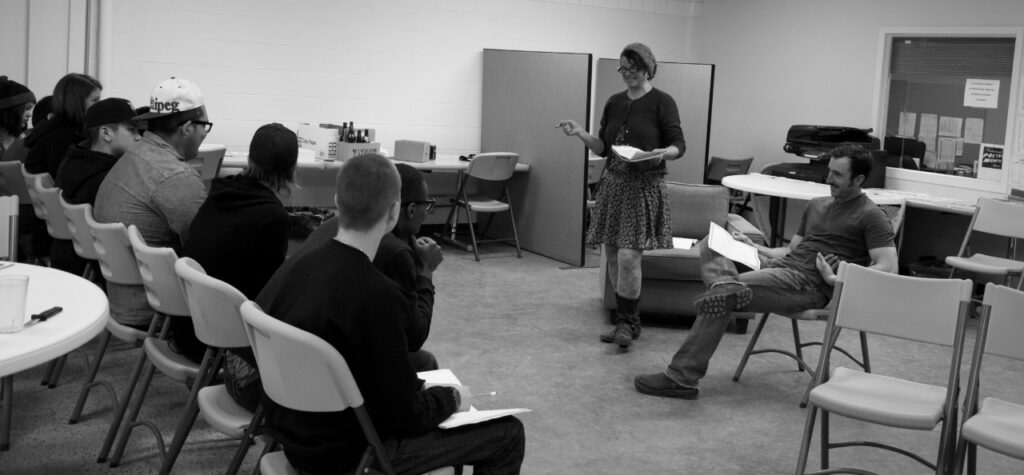 Outreach and Education
School Tour
Each year, SIR organizes multi-provincial tour to Middle, Junior High, and High schools across Manitoba, Ontario, and Saskatchewan. Featuring specially adapted "Stripped-Down" versions of Shakespearean plays.
Check out past touring productions by clicking on the images in the carousel at the bottom of this page.
For more information on our School Tours click HERE.
School Matinees
As part of our annual Spring Production at the Trappist Monastery Heritage Park, we offer special matinee performances just for schools. These early-access performances are scheduled during school hours and allow students a first-hand experience of our unique, outdoor, promenade-style theatre.
For more information on our School Matinee Performances click HERE.
Shakespeare in Action
Shakespeare in Action is a flexible one-hour workshop designed to give students the chance to participate in basic techniques and exercises used by a professional actor when tackling a scene from Shakespeare.
For more information on how to book a tailor-made workshop for your group click HERE.
SIR @ SIR
In response to the ongoing COVID-19 crisis, SIR has assembled a series of online initiatives that aim to engage, educate and entertain through a series of programs, workshops and performances. We call it SIR @ SIR: Social Isolation Resources at Shakespeare in the Ruins.
For more information on current SIR @ SIR programming click HERE.
Shakespeare in Stony Mountain
Shakespeare in Stony Mountain (SISM) brings the Bard into the classroom at Stony Mountain Penitentiary where participants explore the themes in Shakespeare's most famous plays through discussion and performance. It is a powerful program aimed at helping participants to build self-confidence and the capacity for self-discovery through exposure to arts education.
For more information about our SISM program click HERE.