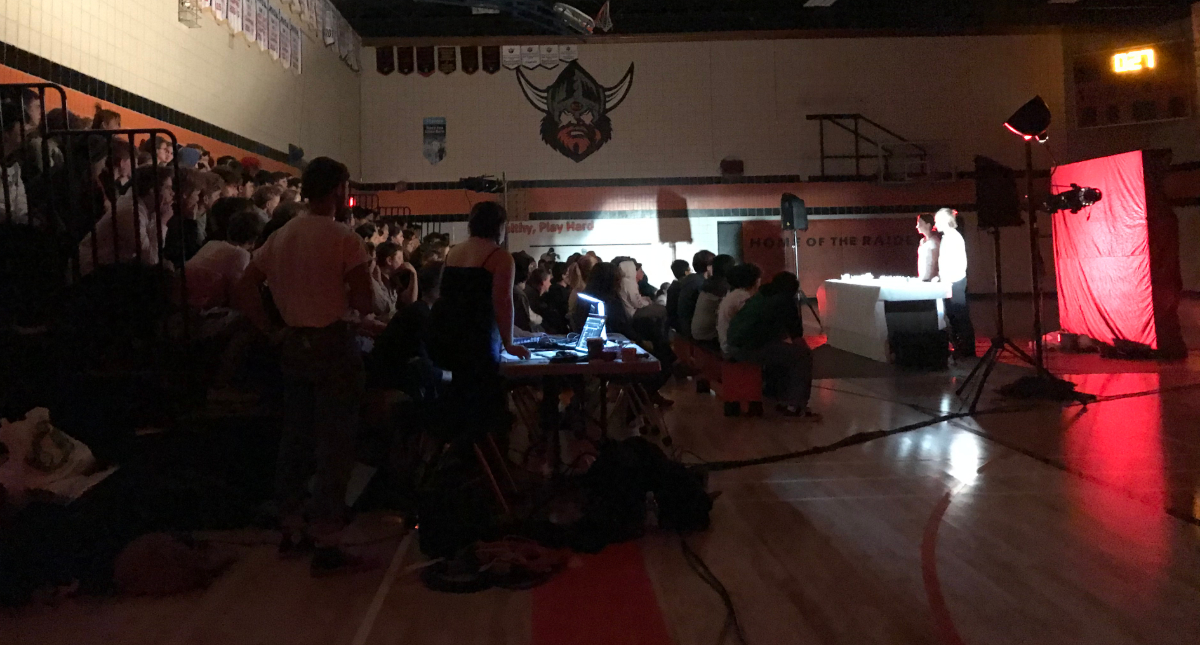 In The Schools
Shakespeare in the Ruins (SIR) is deeply committed to education through Shakespeare and his plays. We strive to make his work accessible and relatable.
MAINSTAGE SCHOOL MATINEES
Each spring we invite students to come experience a Shakespearean adventure in the picturesque Ruins of the Trappist Monastery Provincial Heritage park in St. Norbert, Manitoba.
Our promenade-style outdoor theatre means that each production is one-of-a-kind.  As you follow the actors in the park and move from scene to scene you never know where the action will appear next!  Where else but at a Shakespeare in the Ruins' show would one watch in awe as Stephano enters the scene by swimming up the La Salle river in The Tempest or Antony's grand birch bark canoe entrance in Antony & Cleopatra. Experience Shakespeare like you never have before!
A brief Q&A session with the cast and crew follows every school matinee performance. Augment your trip to an SIR show with a tailor-made workshop for your students at the park before the show. Inquire when booking for more information.
For more information on booking tickets for our school matinees call 204-957-1753 or email Keith at admin@sirmb.ca.
PROVINCIAL SCHOOL TOUR
SIR's most portable way to deliver the SIR "Shakespeare-ience" to students is through our popular one hour, "stripped-down" touring productions.  These "nothing but the hits" adaptations are perfect for students who might otherwise never have the opportunity to see Shakespeare live and think of these plays as only boring text-books.
Every student performance is prefaced with an informal pre-show chat between student audiences and a member of the cast (as a means of preparing the students for what they are about to experience) and finishes with a post-show question and answer session between the students and the entire company.
Study guides for our touring productions are available HERE.
See past productions of our tours click on any of the images below.
For more information call 204-957-1753 or email Keith admin@sirmb.ca.
SHAKESPEARE IN ACTION
Shakespeare in Action is a one-hour workshop designed to give students the chance to participate in basic techniques and exercises used by professional actors when tackling a scene from Shakespeare. By arming them with the tools to demystify the language, students experience the visceral thrill of discovery that comes with overcoming the Bard's difficult text.
Classes start at $150 for a 1 hour session with 30 students.
Workshop length and subject matter can be negotiated depending on the needs of each class.
For more information on how to book a tailor-made workshop for your group call 204-957-1753 or email our Artistic Director, Rodrigo Beilfuss ad@sirmb.ca.