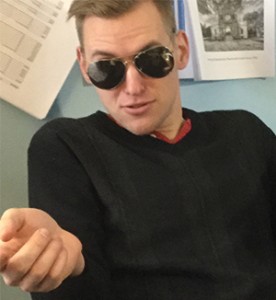 Thanks to a mentorship grant through ACI Manitoba Shakespeare in the Ruins has been able to offer an intern position to Black Hole student Nickolas Petuhoff. Artistic Director Michelle Boulet sits down with Nick to find out what's his story.
Michelle: Where did you study?
Nick: I am currently enrolled at the University of Manitoba in the Theatre Department; prior to that I attended Maples Collegiate.
Michelle: What was your very first theatre production?
Nick: In grade nine I was in a production of Charlie and the Chocolate Factory and I played Mike Teavee.
Michelle: How did you land at SIR as its Admin Assistant?
Nick: I met the two Artistic Directors of SIR (Andrew Cecon & Michelle Boulet) while we were all working on Hamlet last March. Then I met General Manager Lisa Nelson on opening night. Andrew heard about a mentorship program being offered through ACI and thought I would be a good fit and could learn a lot from spending some time at the company's office. They applied to the program and the rest they say is history. I have been here since September.
Michelle: What have you learned during your time?
Nick: I have been involved in both the production side in addition to gaining experience on stage. I spent October/November on the road with the provincial fall tour Stripped-Down Romeo & Juliet playing Romeo. With Artistic Director Andrew Cecon also on the tour it was a great opportunity to learn the ins and outs of touring.
Here in the office I have been fortunate to be learning a bit of everything with the added bonus of applying it in the real world…something which does not happen while you are still in university.
Michelle: What is your favourite Bard play?
Nick: Titus Andronicus because I was in it…(laughs).
Michelle: I understand you are in the military. Are there any similarities between working there and at SIR?
Nick: Surprisingly yes. Theatre takes a great deal of discipline and organization. Similar to the military there is a lot of general camaraderie and familial bonds which happens when people band together and work toward a unifying goal. Oh, and Lisa a driving force…like a Sargent…(laughs)…but don't tell her.
Michelle: Have your co-workers given you a nickname yet?
Nick: As a matter of fact yes. I am known most commonly around the office as Baby Bear. That's right. That's me.
Michelle: How has your mentorship with SIR affected your career in theatre?
Nick: The mentorship has accelerated the launching of my theatre career beyond my wildest dreams, providing me with the skills, networking, and professionalism that is expected of a young professional. Perhaps the most important contribution the company and ensemble has given to my career was a sense of community and belonging, which is so strong in fact, that I feel like
I am part of a family.
---
In this issue