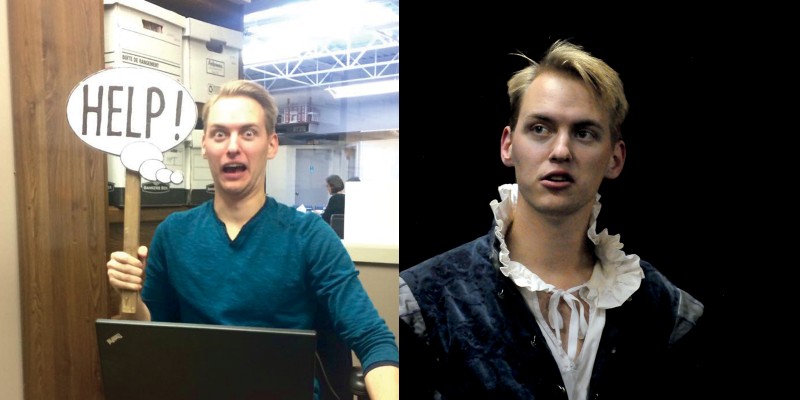 Left: Nick in Stripped-Down Romeo & Juliet.
By Nick Petuhoff
During the summer of 2015, I received a call asking me if I was interested in interning with SIR as part of ACI Manitoba's Youth Internship Program. I was ecstatic at having this opportunity to work with Andrew, Michelle, and Lisa, quickly accepting the proposal before I completely understood what I was getting myself into.
I was interested in learning about Theatre Administration during my internship with SIR. I reasoned that I knew nothing about the subject and I wanted to understand how the daily business of running a theatre company was conducted. Starting in late August, I was usually coming in twice a week, sometimes more, to help out Lisa at the office as she exposed me to the incredibly demanding workload expected of a General Manager. Andrew and Michelle taught me about their equally important duties as Artistic Directors.
In October, I had the opportunity to be mentored by Andrew and Michelle when I was acting in SIR's Stripped-Down Romeo & Juliet. The two of them taught me much about acting, touring, and the "dessert first" tradition, which I still implement whenever I am touring. Following the tour, I was the main organizer for SIR's highly successful "Bard on the Beats", which was an event that showcased the musical talents of Winnipeg artists and the timelessness of Shakespeare's work.
When the internship came to an end last April, I continued working with the SIR team on Richard III as the Volunteer Coordinator and House Manager at the Ruins.
All of these experiences culminated into an amazing journey which has expedited my theatre career beyond my wildest dreams. When I was in university, I was preparing myself to spend at least a year trying to make my break into the Winnipeg theatre scene, but with this internship, I found myself working in professional theatre while I was still finishing my degree. The Youth Mentorship Program has given me much, but the most valuable gift it has given me was the gift of family by becoming a part of SIR. I was able to meet the Board, the Ensemble, several of our Volunteers, and the three very hard-working individuals in the office. Whenever I came into work, I was always greeted with a smile from Andrew, Lisa, and Michelle. There was always time in the workday to chat, discuss personal interests outside of the workplace, and get to know each other in a meaningful and deeply familial level. To this day, Lisa is still my sister, Andrew my brother, and Michelle my "Mama Bear". I love them all for all their guidance and everlasting friendship.
---
In this issue