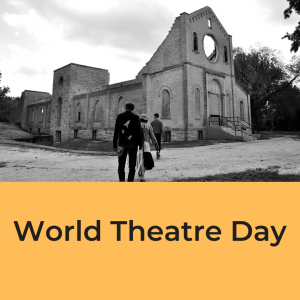 Hello Friend,
On March 27 we celebrated #WorldTheatreDay.
Sadly, for a second time, we celebrated this special day while the vast majority of playhouses around the globe remain dark. And while the impact of the pandemic has been devastating for our sector, we have also witnessed the resilience, fierce intelligence and indomitable resourcefulness of theatre artists during this most unusual year.
As we say farewell to the complicated month of March, we salute all theatre makers – in particular the freelance artists and technicians who are truly the ones responsible for creating the magic we share with our audiences. This is your Time, get off Zoom and celebrate your brilliance!
To our beloved audiences: theatre cannot happen without YOU. What we do is meant to be shared in your presence, and we cannot wait to see you again. Stay safe, and soon we shall dance under the stars at the Ruins once again…it may take a while, but it will happen. And it will be glorious.
Stay tuned for updates…soon.
"And so I wait for you like a lonely house, till you will see me again and live in me. Till then my windows ache." – Pablo Neruda
From all of us at SIR, much love!
RB.