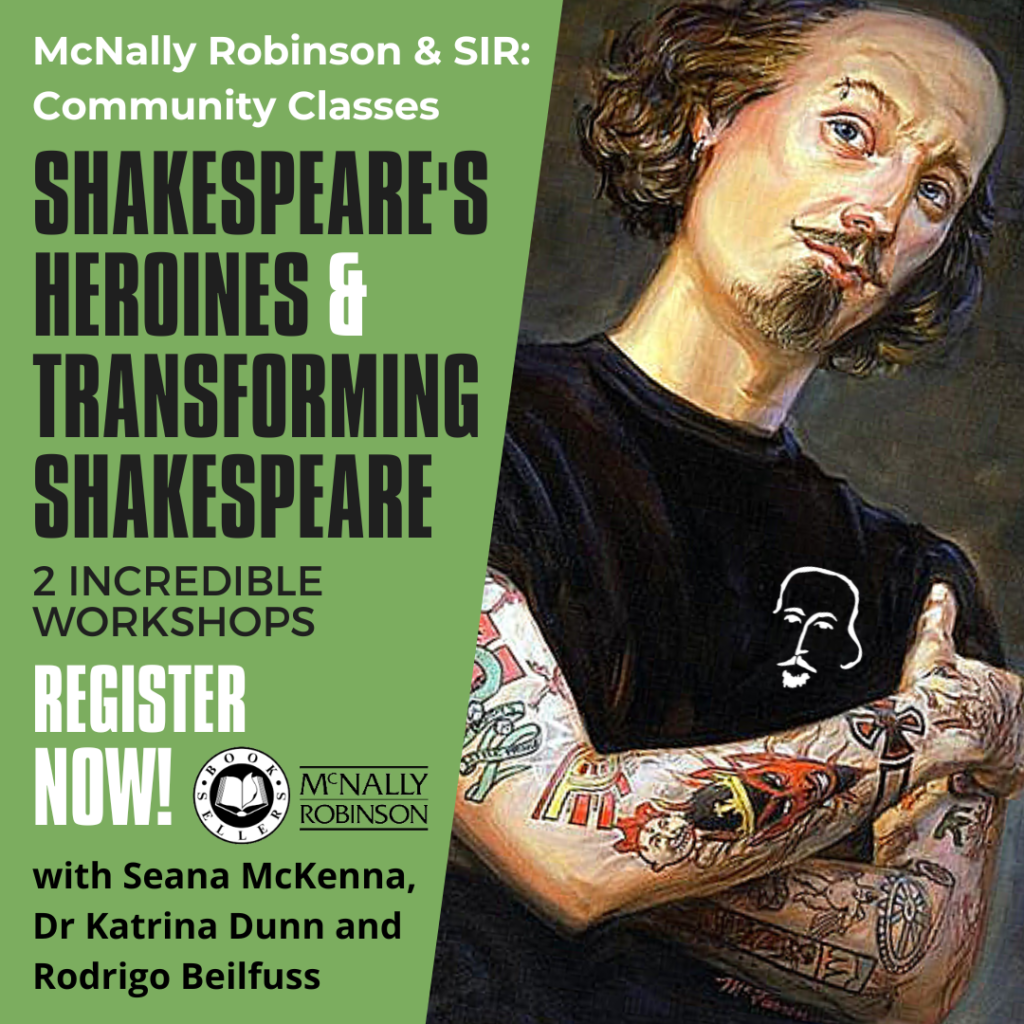 We are pleased to resume our partnership with Winnipeg's favourite booksellers, McNally Robinson, bringing you TWO exciting opportunities to learn and engage with Shakespeare as part of their Fall Community Classroom program.
These classes are designed for anyone, from all levels of theatrical experiences, or simply an earnest passion or curiosity about Shakespeare's works.
If you have any questions, please reach out to Rodrigo, SIR's Artistic Director, at ad@sirmb.ca
Details for each class are below: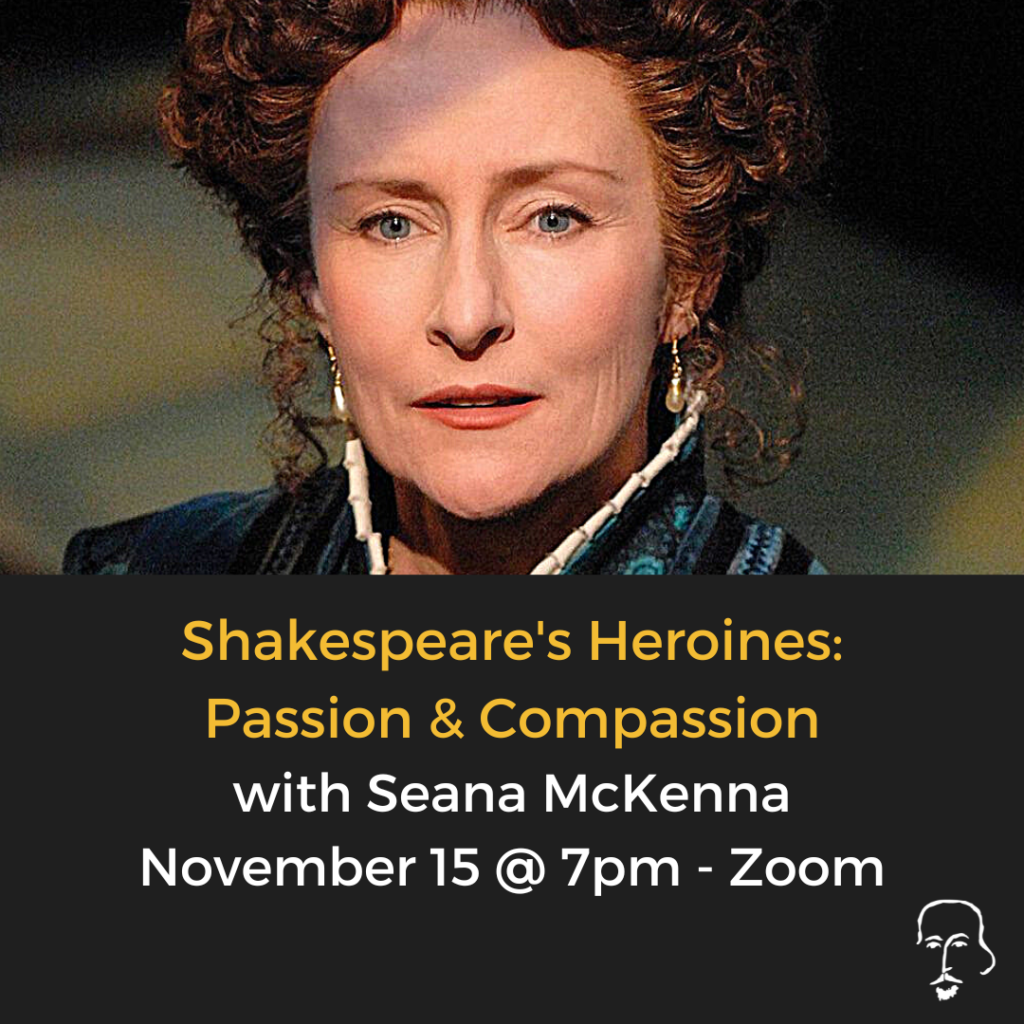 Stratford's long-time leading lady Seana McKenna will reveal her process of approaching the text and bringing to life some of Shakespeare's most iconic women. Whether you're a curious Arts lover or a professional theatre-maker, this class will appeal to your Bard senses. Seana will provide theoretical and practical insights into language and character. We'll chat, we'll work, you'll ask questions!
Date: Tuesday, November 15
Time: 7pm – 9pm (Central Time)
Location: Online (Zoom)
Fee: $30
REGISTER HERE: Shakespeare's Heroines 
Seana McKenna is a celebrated actor, director and educator, and a long-time leading member of the Stratford Festival company, where she has performed in 29 seasons. Her roles include Lear, Julius Caesar, Viola, Portia, Olivia, Kate, Titania, Gertrude, Paulina, Juliet, Beatrice, Richard III, Mary Tyrone, Medea, Mother Courage, Queen Elizabeth I, Queen Margaret, Phèdre, Constance and many others from the Classical repertoire. In 2019, she was invested into the Order of Canada.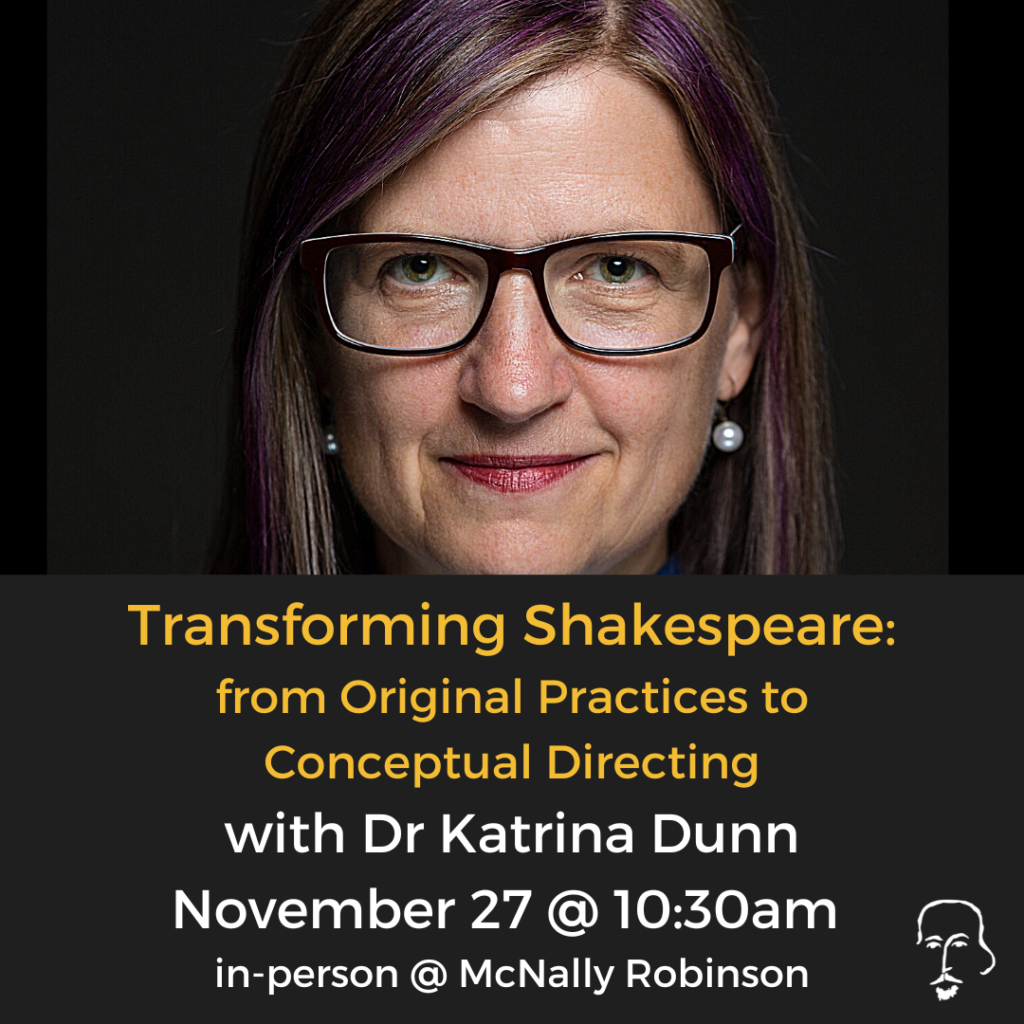 Go back in time and explore the ever-shifting styles of staging, speaking, and understanding Shakespeare through the ages. In collaboration with Shakespeare in the Ruins' Artistic Director, Rodrigo Beilfuss, scholar and stage director Dr Katrina Dunn will guide you through the historical contexts and the transformative theatrical practices that have shaped our idea of "Shakespearean theatre". We'll explore "original pronunciation" (how actors back then might have sounded like), landmark productions, and how we can transform the very meaning of the plays through editing and aesthetic choices.
Date: Sunday, November 27
Time: 10:30am – 12:30pm
Location: In-person, at the Community Classroom at McNally in Grant Park
Fee: $30
REGISTER HERE: Transforming Shakespeare
Katrina Dunn is an Assistant Professor in the University of Manitoba's Department of English, Theatre, Film and Media, where she teaches acting, directing and theatre studies. She has published chapters and articles in several academic journals and collections and is currently working on her first book. Katrina's long career as a stage director, artistic director, and producer has had considerable impact on the performing arts on the West Coast and has been recognized with numerous awards.