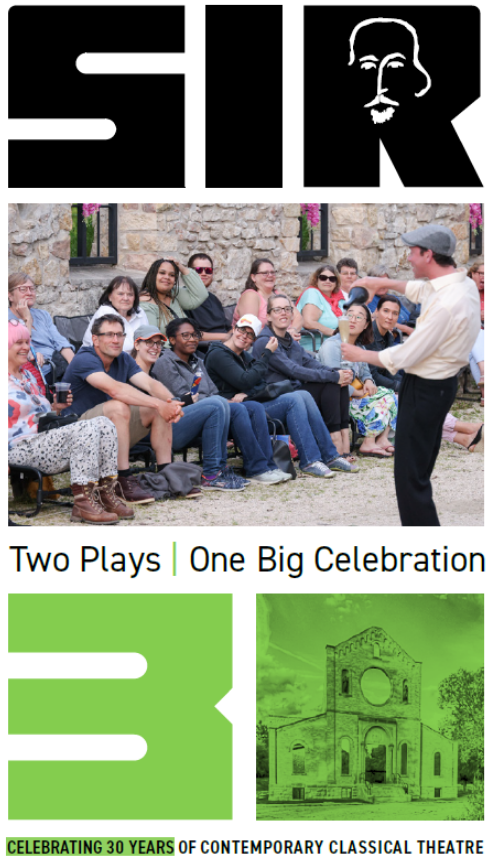 SIR's 2023 season is about collaboration and celebration, with two distinct and delightful productions: Twelfth Night, arguably Shakespeare's finest comedy, is filled with revelry and longing; while The Dark Lady, a world premiere of a new work by Jessica B. Hill is a dynamic duet that dismantles our conventional views on Shakespeare through the perspective of poetess Emilia Bassano – the possible 'dark lady' that appears in his sonnets. 
This 'digital newsletter' is your invitation to become intimately acquainted with this season through audio interviews, web chats, playlists & more.
WELCOME TO OUR 30TH ANNIVERSARY SEASON!
SIR becomes a little older (a little wiser!) in 2023; and once the snow melts, we will again gather at the Ruins in the Spring for a double-bill presentation with two productions: TWELFTH NIGHT, by our good ole' Will Shakespeare & THE DARK LADY, a new play by the brilliant Jessica B. Hill – who delighted Winnipeg audiences this Winter with her solo piece, PANDORA.
SIR continues to envision ways to challenge, celebrate, enshrine, and explode our perspectives on Shakespeare and what constitutes 'the classical canon' in the 21st century. As we enter this celebratory year, we remain in a delicate moment–culturally and historically–still inside uncertain times, but perpetually inspired to transform the theatre of the past into a dynamic experience of the Now, for you.
You deserve a big party too. Life has been a bit…much lately, no? There's so much noise and distraction out there. Why not unplug this Spring, and join us outside, in nature, for that well-earned relief!
We can't wait to see your smiles again under that gorgeous sky at the park. Let's feel that joy, together.

Rodrigo Beilfuss, Artistic Director
Director Christopher Brauer and SIR's own Rodrigo Beilfuss nerd out on Twelfth Night, Shakespeare and Promenade Theatre.

SIR General Manager, Sara Malabar, former Toronto DJ and music programmer curates a playlist inspired by the themes and characters of Twelfth Night.


By Brandon Christopher, Associate Professor & Chair of the Dept of English at U of W
There's an image near the end of the last issue of Neil Gaiman's Sandman comic book series that features Shakespeare, alone in his study in Stratford, toiling away with his quill as he struggles to write The Tempest. It's a familiar image: the author-as-genius struggling in isolation to capture his elusive muse, allowing it to speak through him as he writes.
The Dark Lady: Creation & Inspiration
Playwright and performer Jessica B. Hill and Dr. Katrina Dunn ( UofM Faculty of English, Theatre, Film & Media) take a deep dive into The Dark Lady's creation process, and inspiration, poet and writer Emilia Bassano.
Reflections: The Dark Lady
Playwright Jessica B. Hill and director Rodrigo Beilfuss discuss the creation of the play and provide insight into Emilia Bassano, the closest contender for "the Dark Lady of the Sonnets."