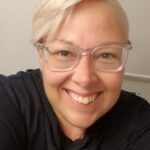 July 22, 2021
The Board of Directors of Shakespeare in the Ruins Inc. is thrilled to announce that we have hired Sara Malabar as our incoming General Manager.
Sara brings a wealth of experience in arts management to the position, including as the Arts & Entertainment Program Manager with Pride Toronto, the Managing Director of the Studio of Received Ideas, and the General Manager of Theatre Projects Manitoba under the artistic leadership of Margo Charlton (2000-2002). Sara was also the producer of the opening and Closing Ceremonies for WorldPride, Producer for the 2010 Olympic Torch Relay in Toronto, and Project Manager for Toronto's Nuit Blanche.
Most recently, she comes to us from an incredibly important role as manager of one of the COVID-19 vaccine supersites in Winnipeg!
Sara shares: "After 15 years living and working in Toronto, I have returned home to Winnipeg where I want to use my considerable experience to support Winnipeg's vibrant arts community. My love of the arts began at Manitoba Theatre for Young People, where I was mentored by SIR's B. Pat Burns into an early career as a stage manager and director. I have worked with many arts disciplines throughout my career, my first love is the theatre, and I am excited to return to it."
We look forward to welcoming Sara to the SIR family on August 16th, when she begins the transition phase with Lisa.
Lisa's final day as SIR's General Manager will be September 30th, 2021.