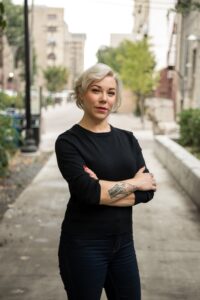 SIR would like to congratulate and to announce the departure of General Manager Lisa Nelson-Fries, who has served the company for six successful years and is now transitioning into a career in film.
Lisa brought style, verve and incredible efficiency to SIR in her role as GM, and over the course of six seasons, the company has enjoyed stability and growth under her leadership. "My tenure as General Manager of Shakespeare in the Ruins (SIR) has been both the most rewarding and most challenging job of my career," she says. "I have always been incredibly proud to be part of this company and the work we do. SIR has a long history of producing high quality productions against all odds and I am so honoured to be part of that legacy. I want to say a huge thank you to our sponsors, donors, volunteers, office staff, Board of Directors, and our audiences who have supported our work over my tenure. I hope they continue to support SIR through this exciting transition and the years to come. Leaving my position is very bittersweet, though I am thrilled to be passing the baton to Sara Malabar. She brings a wealth of knowledge and skills to the company. I wish her, Rodrigo, and everyone at SIR all the best."
We look forward to welcoming Sara to the SIR family on August 16th, when she begins the transition phase with Lisa.
Lisa's final day as SIR's General Manager will be September 30th, 2021.