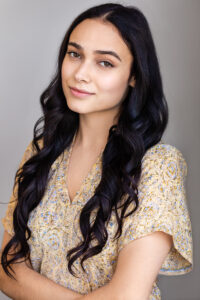 We are pleased to announce that Sophie Smith-Dostmohamed is SIR's new Associate Artistic Director!
Sophie will join us this 2021 Summer, and she will be a part of SIR for a whole year, working closely with our Artistic Director Rodrigo Beilfuss in the delivery of the 2021 season and planning for 2022. We couldn't be more excited!
This opportunity has been made possible by the generous support from the Manitoba Arts Council and the Winnipeg Foundation through their Arts Leader program.
"The single most important activity of Shakespeare in the Ruins is its unwavering commitment to stewarding new voices and supporting emerging talents. I see a lot of the youthful fire, wit and grit that I had 15 years ago in Sophie today", says Rodrigo, continuing: "I came to Shakespeare as an outsider. As a Latin American immigrant with very little English, I had no legitimate claim to the world of Anglo Classical Theatre. And yet, it was through Shakespeare that I found my own voice – my authenticity. Sophie and I share this perspective on Shakespeare. We are both outsiders. She is incredibly passionate, and she is a versatile theatre artist and educator who can act and write skillfully – her many talents make her a fully rounded practitioner. This opportunity with SIR is the ideal next step in her pursuit of a truly multifaceted portfolio in Theatre. I cannot wait to learn from Sophie."
Sophie adds: "There is a noticeable lack of female IBPOC leadership, not only in the theatre community, but in all forms of artistic practices. I'm honoured to be involved in bridging that gap; allowing my leadership to turn into opportunities for those who come next. Under Rodrigo's guidance, I look forward to building connections within SIR, as well as beyond it. If we want to continue to produce the Classics we hold so close to ourselves, we must act in transformative, radical ways so that they may reflect the audiences and artists involved. I am beyond grateful for this opportunity, and will prioritize contributing to the safety, wellness, and artistic visions of IBPOC creators. May we all be resolute in the choice to remain hopeful."
Join us in welcoming Sophie!