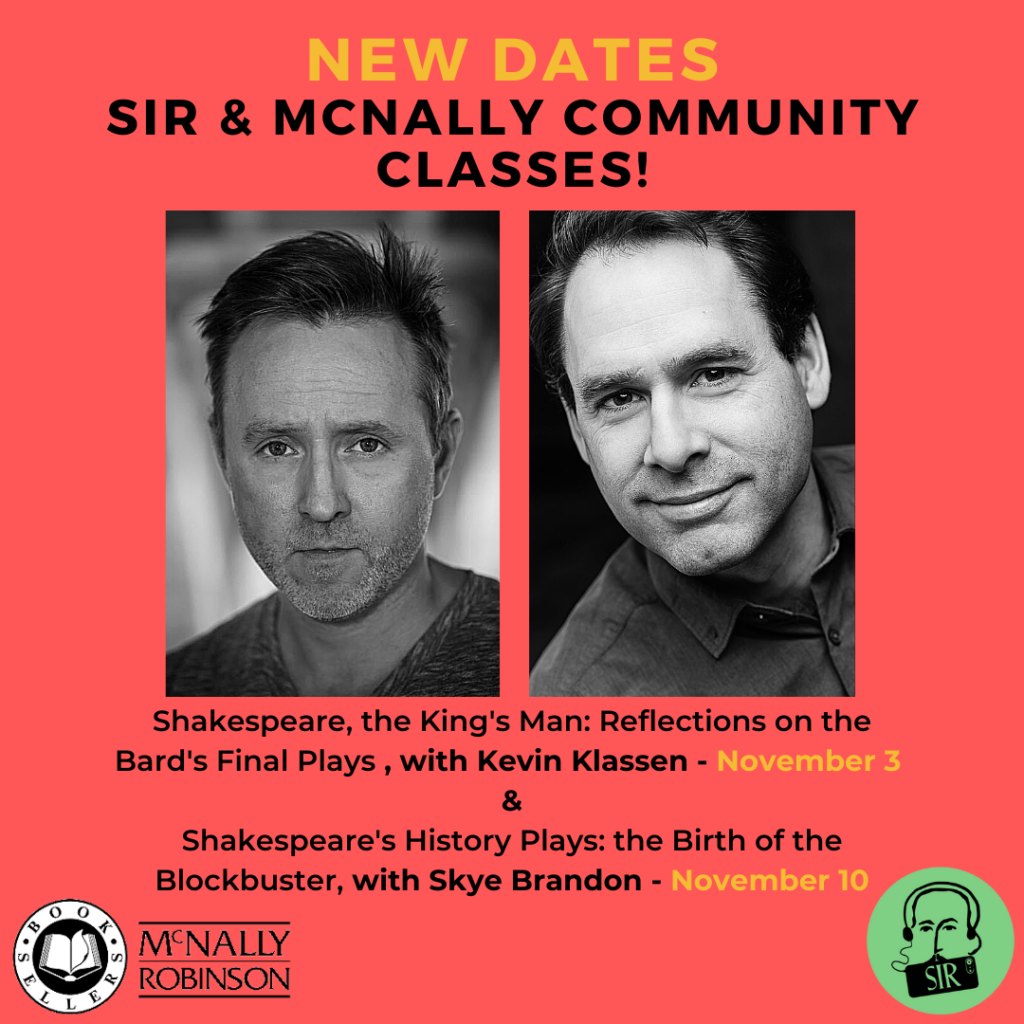 This November, we will be offering two online classes to enrich your Shakespearean experience through our partners at McNally Robinson Booksellers. These are for everyone and anyone with an interest on the Bard. 
Shakespeare, The King's Man: Reflections on the Bard's Final Plays 
A perfect companion to the upcoming Shakespeare in the Ruins (SIR) filmed production of Macbeth, this lecture is led by SIR-veteran, Kevin Klassen. We often refer to Shakespeare as an "Elizabethan" playwright, but nearly half of his creative output happened under Queen Elizabeth's successor, the eccentric King James. Exploring the unique historical context Shakespeare was working in toward the end of his life – and with special focus on Macbeth – Klassen will offer his thoughts on how the ascension and reign of King James may have affected Shakespeare's most audacious and challenging works. 
Facilitator: Kevin Klassen 
Date: November 03, 2021
Time: 7 – 9pm CT 
Location: Zoom 
Cost $30
REGISTER HERE: https://www.mcnallyrobinson.com/classes
*****
Shakespeare's History Plays: the Birth of Blockbusters   
Often thought to be dense in plot and complex in form, Shakespeare's first set of hit plays – the Historical dramas – remain hugely influential in contemporary pop culture; from The Godfather films to Game of Thrones, The White Queen and House of Cards. This rich collection of eight plays is filled with brilliant characters, epic battles and galvanizing political speeches. Join actor-scholar Skye Brandon ("King Claudius" in the 2019 SIR production of Hamlet) in a delightful exploration of the Bard's Histories; from Richard II, through the Henries, and to the bloody, cheeky gore of Richard III, this class will give you an exciting, sweeping overview of the fantastical political dramas that made Shakespeare a star.  
Facilitator: Skye Brandon 
Date: November 10, 2021
Time: 7 – 9pm CT 
Location: Zoom 
Cost $30
REGISTER HERE: https://www.mcnallyrobinson.com/classes
Please email Rodrigo at ad@sirmb.ca if you any questions!