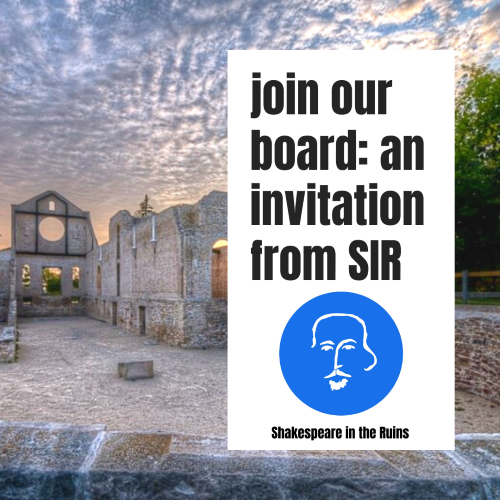 An Invitation To The Community
We would like to have a conversation with members of the community who might be interested in joining our board of directors. Historically, the board has been comprised of a pretty homogenous group.
We want our board to reflect much more accurately the community we serve and seek to serve, and Manitoba's inhabitants overall. We are seeking board members who are part of communities and identities historically under-represented in arts and culture in Manitoba. We want to partner with people who will find it meaningful to contribute to the growth of SIR through equal relationships that are committed to social justice and reconciliation in everything we do; including our unique presentations of Shakespeare's plays. If you'd like to be involved, please let us know!
We've put together a committee to guide the search for new board members that includes community members from varied backgrounds as well as SIR board and staff members. We have committed to inter-cultural competency and the safety of everyone we work with by getting training in these areas and evolving our understanding and practices. We want interested community members to know that we will not ask for more than they want to give, and that the process, from meeting to becoming a board member, will be done with care for the individual.
After we hear from you, we would love to set up a casual conversation about how SIR and the board work, to help you decide if this is something you really want to do. Our aim is to forgo the usual "interview process" and give you the chance to interview us.
If you feel SIR is right for you, we'll invite you to have a chat with a few committee members. This is not a formal interview either. We would also love to hear from people who would be delighted to provide a good word for you whom we can reach out to. From these conversations, the committee will recommend a slate of new board members to be voted on at our monthly Board meetings.
The SIR board of directors is a volunteer body that functions (as in many non-profits) as the company's governance arm, overseeing big picture aspects of the organization such as strategic planning, approving our annual budget, governance policies etc. The board also offers support and guidance to the staff.
We want all kinds of people to join us, so the qualifications to be a board member are broad.
The list below is not exhaustive, nor are these strict requirements. We would consider the following to be assets in sitting on the SIR board:
Being a member of a community identifiable as equality-seeking or under-represented, or communities otherwise left out of positions of authority. This includes (but is not limited to) people from IBPOC communities, people with disabilities, and people who identify as 2SLGBTQQAI+. While all are welcome to express interest, priority will be given to folks identifying as such. These are the voices we need to add to our team to create a more well-rounded and equitable organization.
Having some knowledge of /experience with the arts, particularly as an artist, but also as an administrator or committed volunteer/patron/supporter. This includes theatre as well as other performing arts disciplines such as cultural performance, music, dance, comedy, film, visual art, writing, etc.
Having professional or other significant experience in accounting, finance, budgeting etc.
Having professional or other significant experience in human resources.
Knowing Shakespeare's work well is not required. But having an interest in Shakespeare's plays is an asset – particularly if that includes an interest in seeing them produced in ways that empower, represent, and entertain everyone and anyone from any community!
We'd like to start these conversations as soon as we can, hopefully in early March, so please don't hesitate to get in touch.
You don't need to send a resumé to tell us you're interested – just email us! Here's the address: Sara Malabar (gm@sirmb.ca)
We thank all who express interest – all queries will be acknowledged.
At SIR we are committed to all our interactions being free from harassment and discrimination and characterized by respect for and openness to all people.
For more information about Shakespeare in the Ruins Inc., a look at our production history, our mandate and mission, photos, updates and more fun stuff about us, please look through our website!