I'm not going to lie…it's been a very challenging time since March, 2020. And being the the artistic leader of a theatre company during these many months of instability and nebulosity has been taxing on the creative soul. But oh, paradoxically, what a completely inspirational and engaging time this has been.
I continue to be in awe of artists, and in particular theatre makers who – in an era of absolutely no live theatre – somehow have managed to create astonishing things, developing brilliant ideas into fruition in an ever-ending game of pivoting – exercising Jedi-like patience while the ground shifts constantly under us all.
SIR has been very lucky. We have collaborated with incredibly special artists during this last year, and we have a few irons in the fire that are indeed STEAMING with fun possibilities.
The picture above, for instance, is a still from our upcoming original feature film, MACBETH, a cinematic adaptation by SIR associates Michelle Boulet and Sarah Constible.
The Winnipeg Free Press has published a lovely story about our 2021 season, which you can read here: TOIL & TROUBLE – Shakespeare in the Ruins Working Hard To Adapt Its Productions For Pandemic-Friendly Viewing.  
Here are a few projects we have on the go:
Shot in and around Winnipeg between September and October of 2020, Macbeth features more than 40 local actors, and dozens of artists behind the screen. Conceived, directed and edited by Michelle Boulet and Sarah Constible, this film is inspired by the late 1800s theatre aesthetic of Anton Chekhov, and was shot digitally in black-and-white.
The film (which is nearly 100min long) is currently in its third editing phase, with focus on sound mixing. Rather than releasing it online, our dream is to share it with our audiences at a public screening event. We want to display it on the big screen, where it belongs, and in the presence of our friends and supporters. We will aim to premiere it Summer of 2022 (details TBD). Ray Strachan & Julie Lumsden play the royal couple.
We continue to be committed to the development of new plays that are Shakespeare-inspired and that look through the lens of "othered" artists. Through the Manitoba Association of Playwrights (MAP), we are currently supporting the development of The Dark Lady, by Jessica B. Hill. The play dismantles our conventional views on Shakespeare through the perspective of a dark-skinned contemporary of his, poetess Emilia Bassano. The development of this important piece is also supported by two other collaborators: Shakespeare on the Saskatchewan and the Stratford Festival. We are aiming to give this play a full production in the summer of 2023.
In Jessica's words: "the piece I'm writing centers on Emilia Bassano, the possible "Dark Lady" of Shakespeare's sonnets. She was trilingual, multiracial, a talented musician and the first Englishwoman to publish her own poetry. The story of this woman's life has a lot in common with Shakespeare's works. My play brings these two poets intimately together and explores a love story centered on artistic collaboration, influence, ambition and jealousy. Though Shakespeare rose to immortal heights, Emilia fell into oblivion. Her poetry, arguing for equality of the sexes, was too much for a man's world. Yet, traces of her and her vision exist throughout his work. Shakespeare's writing took risks and challenged cultural biases on gender, hierarchy, and the accepted standards of beauty. But how did he himself arrive at these revolutionary ideas? I want to explore the moment he was made to confront and rethink his own biases as Emilia opens his eyes to the much larger and nuanced world around him. Through her working with him, challenging him and confronting him, Shakespeare is left to grapple and redefine his relationship to women, to people of different races and different religions.
"Personally, as a bilingual, multiracial actress, I embody many dualities. It's a constant state of translation and adaptation. Negotiating the acting world as someone of mixed race is a journey of constantly feeling too dark or not dark enough for the job. Acting has often made me feel like I've had to suppress one or another part of myself to survive. It took me years to realize what an asset a multicultural identity can be, and to fully harness and embrace it. My cultural identity and presence on stage can become a bridge between the past and the present, between what has been and what can be. I always picture younger minorities than me in the audience needing representation for their imagination.
"As a writer, I now want to make sure no one ever feels like they have to turn off a part of themselves to perform. I want to write for any ethnically or linguistically diverse actor that has ever felt daunted or put off by Shakespeare. I want to bring his work and his stories to a wider audience who might not have initially seen themselves in him. Ultimately, I'd love for us all to hear and see him in a new, liberating and inclusive way. I want to encourage young actors to recontextualize him in order to better own and appreciate him."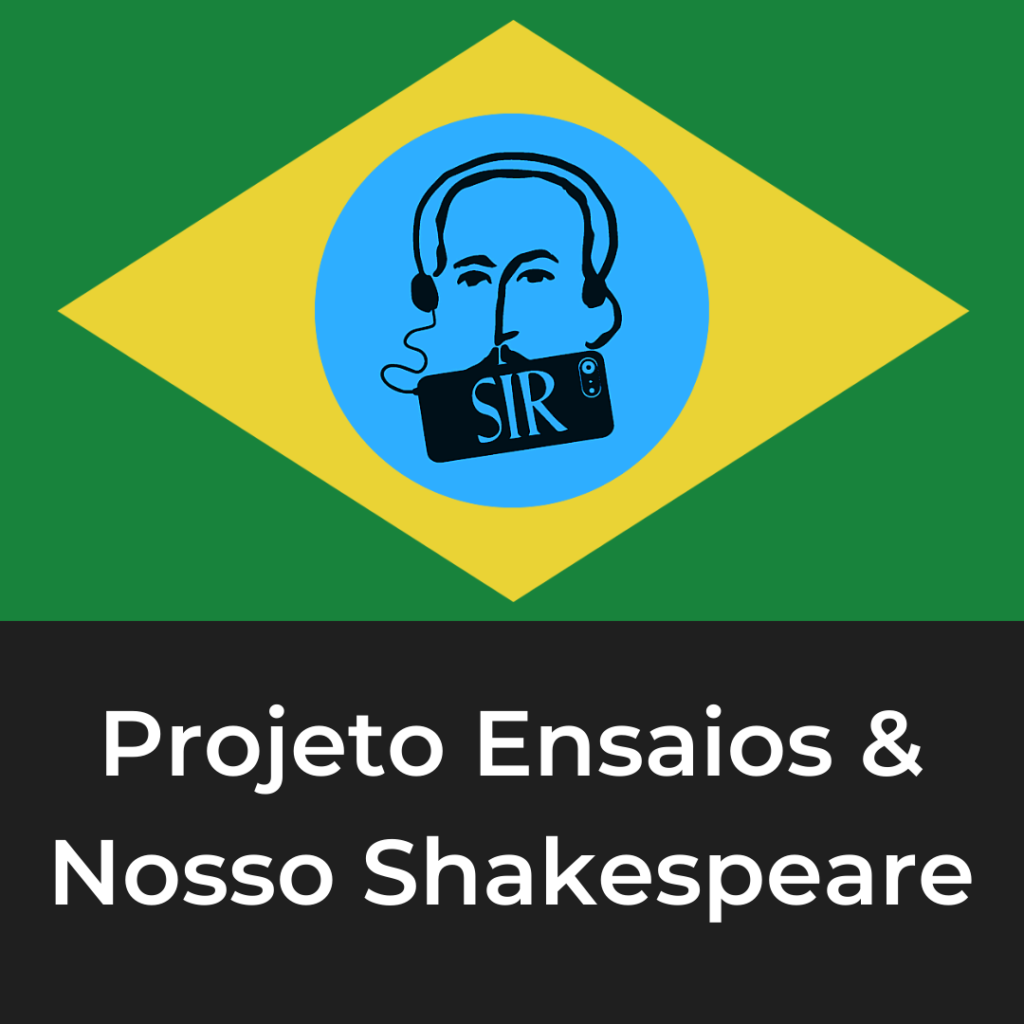 My home-country is currently deep into an unprecedented socio-political crisis. Mismanaged by the repulsive Jair Bolsonaro, Brazil is on the verge of military intervention and total economic collapse due to the ongoing pandemic and rampant political corruption. I believe that fostering global partnerships and cultivating international awareness is deeply important in our collective struggle for justice.
To that end, SIR has engaged with Brazilian Shakespearean company Cia Shakespeare Brasil through two exciting online projects: 'Projeto Ensaios' ("Project Rehearsals") and 'Nosso Shakespeare' ("Our Shakespeare") – providing a series of online workshops for actors from all over Brazil – North, South, East and West – who identify as Indigenous, Black, Trans, and members of vulnerable communities.
In participating, SIR is forming a cultural and professional exchange of knowledge integral to the creation of a more inclusive theatre community here in Manitoba, while also providing training for IBPOC communities – using Shakespeare as a PASSPORT for building cultural bridges. This excites me tremendously.
Rather than shrinking at this time of collective crisis, we are indeed taking this opportunity to dream boldly and to expand with enthusiasm.
We can't wait to share these thrilling projects and the delicious discoveries we make along the way with you.
Much love,
Rodrigo
ad@sirmb.ca