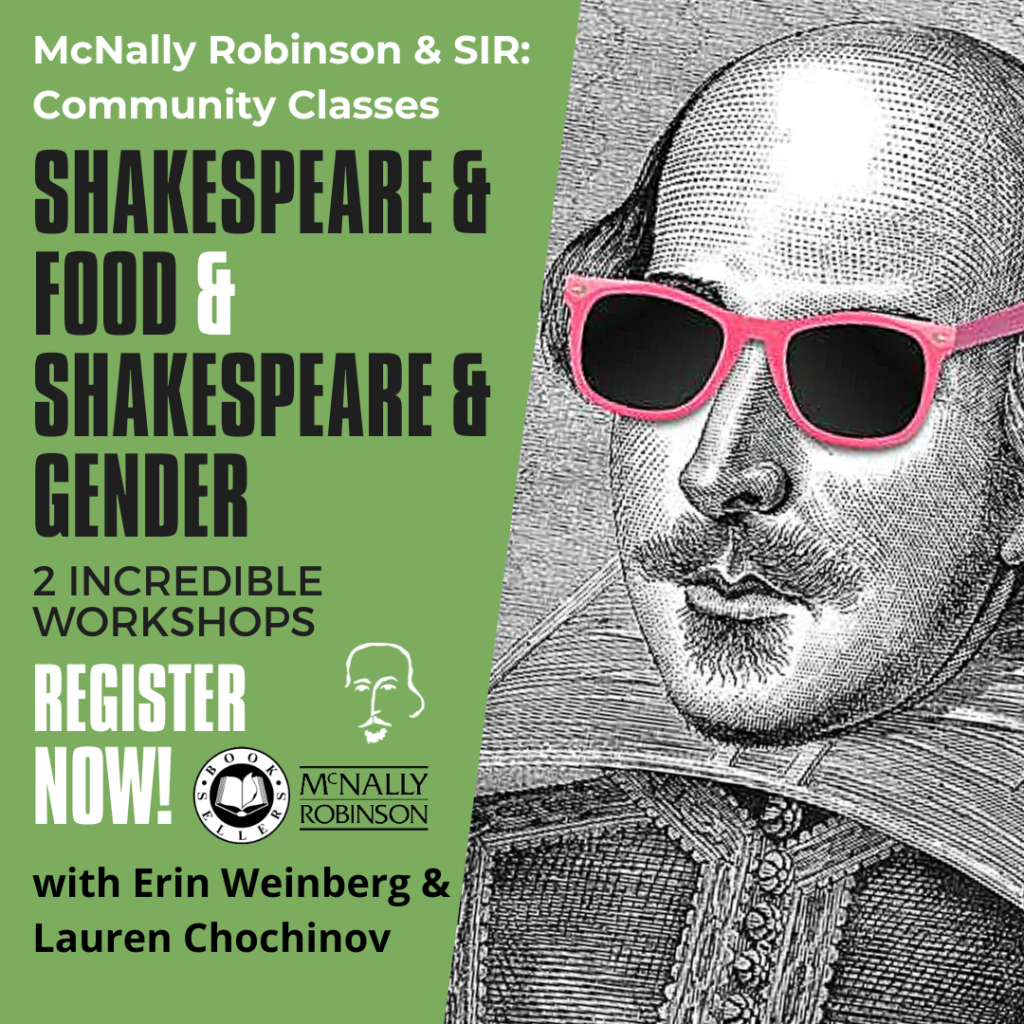 We are pleased to resume our partnership with Winnipeg's favourite booksellers, McNally Robinson, bringing you TWO exciting opportunities to learn and engage with Shakespeare as part of their Fall Community Classroom program.
These classes are designed for anyone, from all levels of theatrical experiences, or simply an earnest passion or curiosity about Shakespeare's works.
If you have any questions, please reach out to Rodrigo, SIR's Artistic Director, at ad@sirmb.ca
Details for each class are below: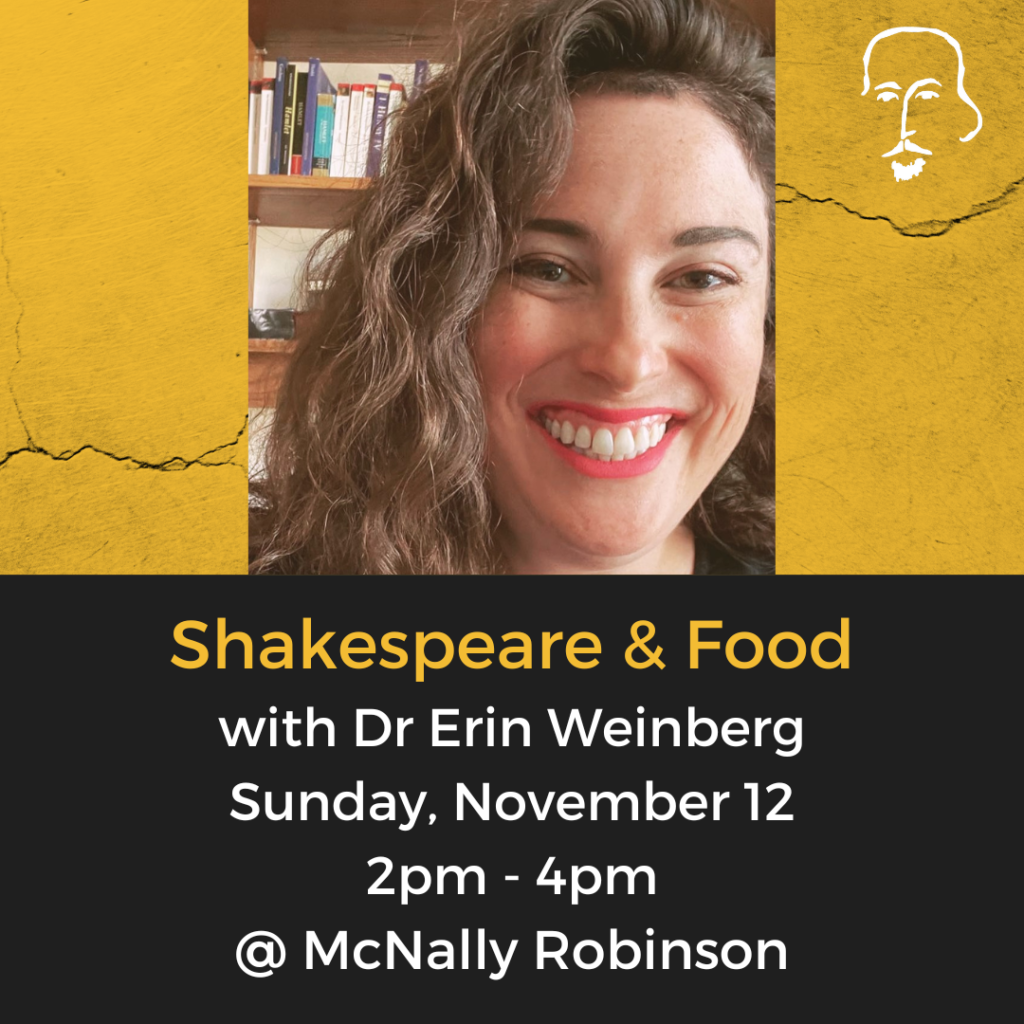 Food, in literature, always means more than just fuel for the body. It provides an occasion for people to sit together, talk, consecrate love, or provoke conflict. In this Community Class, Dr. Erin Weinberg will provide you with a taste for how Shakespeare uses food as a mark of social inclusion and exclusion. Prepare to revisit your favourite Shakespeare plays and discover new flavours within!
Date: Sunday, November 12, 2023
Time: 2pm – 4pm
Location: In the classroom at McNally Robinson (Grant Park)
Fee: $30
REGISTER HERE: Shakespeare & Food
Dr. Erin Weinberg (she/her) is an Instructor in the Department of English, Theatre, Film and Media at the University of Manitoba. Her research has been published in academic journals, including Early Modern Literary Studies, Research on Medieval and Early Modern Drama, and the Shakespeare Institute Review. This is Dr. Weinberg's first year on the Board of Directors for Shakespeare in the Ruins.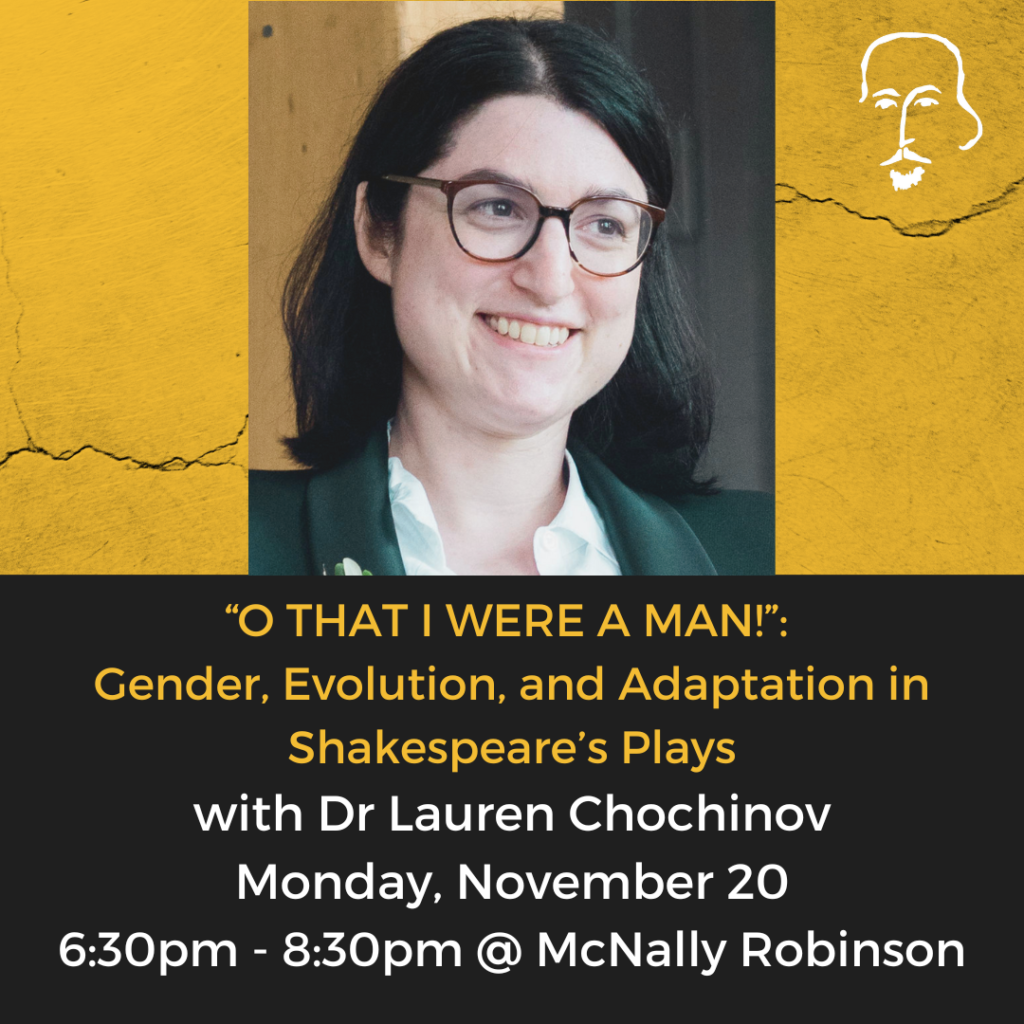 1660 marked an important year in English history. With the outbreak of Civil War in 1642, all theatres in England were closed and remained that way for nearly two decades. With the restoration of the monarchy in 1660, King Charles II reopened theatres, and by December of that year, the first professional actress appeared on stage in a production of Othello. During Shakespeare's lifetime, women were not allowed to perform in any professional capacity, which famously meant that all roles were played by men. Shakespeare's plays are filled with references, often tongue-in-cheek, to the sex and gender of both the characters and actors playing them.
Together we'll explore the evolution of gender roles and gender representation in Shakespeare's plays both on stage and on screen, and how our own shifting understanding of gender has changed the way these works are staged and seen. How did Shakespeare use gender and sexuality to bring attention to his actors? What changed after women were legally allowed to perform on England's stages? What do modern productions that experiment with gender representation tell us about the world we live in?
Date: Monday, November 20, 2023
Time: 6:30pm – 8:30pm
Location: In the classroom at McNally Robinson (Grant Park)
Fee: $30
REGISTER HERE: Shakespeare & Gender
Lauren Chochinov has taught Medieval and Early Modern literature at numerous universities and colleges across Canada. She holds a PhD in English literature and after many years away from Winnipeg teaching, has returned home to further pursue her career in education. Her research and teaching focus is gender and sexuality in a variety of literary forms, which translates into many hours spent outside of the classroom obsessing over 2SLGBTQI+ representation in popular culture.