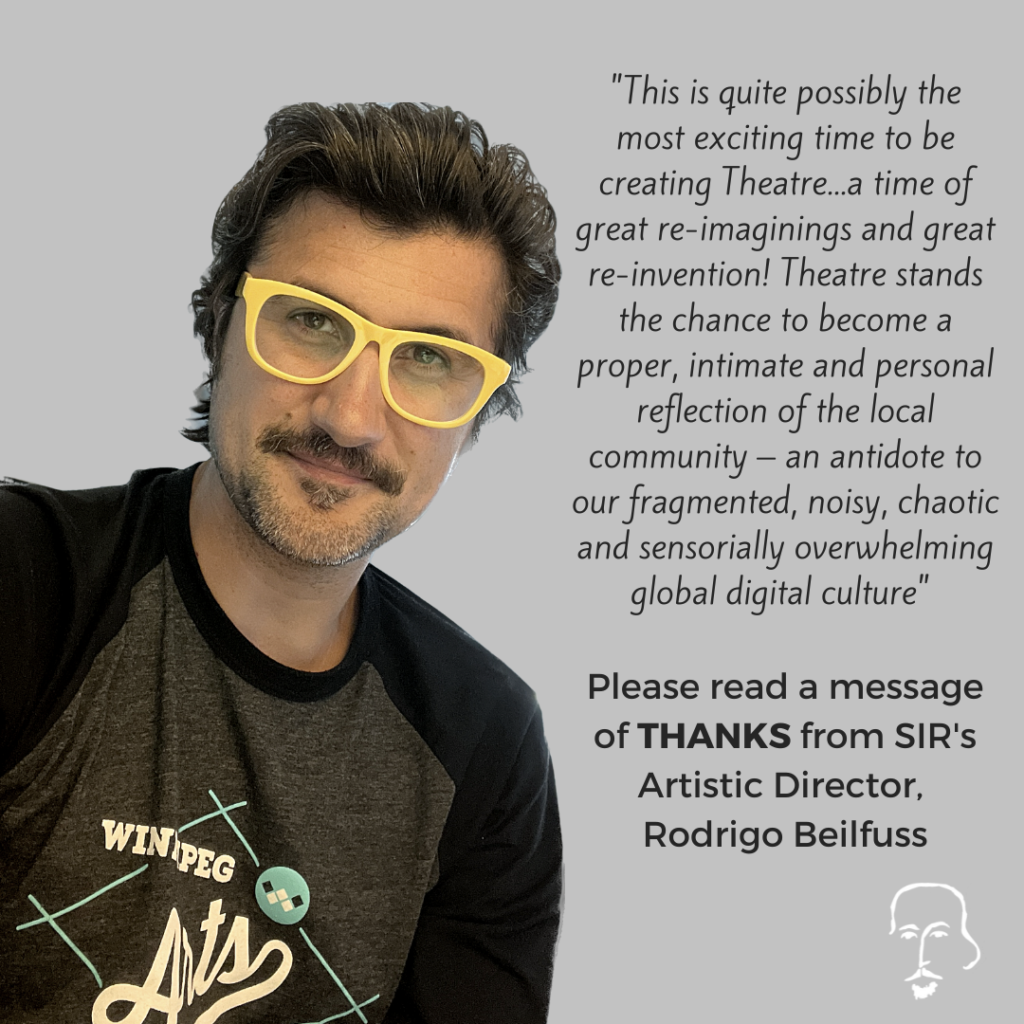 Hello dear friend,
As I type this, the Fringe Festival is in full swing, and the sun has just set on SIR's successful journey in Saskatoon with The Dark Lady. What a Spring-into-Summer this has been. I'm filled with gratitude, hope, and a healthy bit of physical exhaustion!
Thank you; thank you for supporting our shows, and thank you for believing in the value and joy that we bring to the community each year. 2023 has been an incredibly engaging year; we're celebrating 30 years of life, and the shows we've produced this season have truly been special experiences that I know I'll carry with me for the rest of my life.
We started the year with Pandora, by the brilliant Jessica B. Hill, in a co-production with PTE; and once the snow melted, we gathered again at the Ruins for a double-bill: Twelfth Night – excitingly directed by Christopher Brauer – and The Dark Lady, Jessica's second offering, in a co-production with Shakespeare on the Saskatchewan. All the productions provoked immensely enthusiastic responses, and we couldn't be any happier (I smile as I type). We've also recently received the news that both Pandora and The Dark Lady will be published by Scirocco Drama, with an April 2024 release – how thrilling, to put a little bit of joy and beauty into the world. Surely, these are gorgeous plays that shall outlive us all and be performed in the future by other players "in states unborn and accents yet unknown", as Shakespeare wrote in Julius Caesar. I really believe in the enduring power of both Pandora and The Dark Lady, and it's totally gratifying to have been part of the initial stages of those plays' existence with the world-premiere productions here in Winnipeg.
Despite the great crowds we were able to bring to the park, and the many sold-out shows, SIR remains in a delicate position regarding the future – financially speaking. As I'm sure everyone is aware, this post-pandemic 'return to live' has been very challenging for most theatres, around the globe. Rising costs, staff and board turnover, health risks, a complex socio-cultural revolution that is ongoing, and catastrophically unstable weather are just some of the elements that truly have pushed many of us toward the brink (if not financially, certainly spiritually). Tragically, we were forced to cancel performances in Saskatoon simply because the air was filled with toxic smog – a new reality that outdoor theatres will continue to face in the years to come, as climate change accelerates, and our seasons become more and more unpredictable.
But make no mistake, I for one continue to be inspired by the challenges, and I have no intention to back-down or to give in to 'defeatism' – this is quite possibly the most exciting time to be creating Theatre since the idea of subsidized institutions came into fruition in the mid-20th century. This is a time of great re-imaginings and great re-invention! Theatre stands the chance to become a proper, intimate and personal reflection of the local community – an antidote to our fragmented, noisy, chaotic and sensorially overwhelming global digital culture.
I truly believe that the stunning simplicity of coming together to witness a great story played out in front of us is a healing act of communion that both calms and stirs the soul.
As playwright Jack Thorne recently wrote in the play "The Motive & the Cue": "I like the art. That relationship between the audience and the stage – that moment of conversation – theatre is thinking – pure thought – collective imagination…I don't think there is any other art form in the world where minds meet so beautifully…"
Into the next two months, I'll be deeply engaged in planning our 2024 season – choosing the plays, assembling the technical and production teams, and collaborating on ways to help SIR continue to navigate these challenging times with success and energy. I can tell you that we are planning a very exciting 2024, with a very popular comedy that is filled with magic and wit; a new play that wrestles with the big question of What is Theatre; and a much anticipated return to touring in schools in the Fall…there's a lot of dreaming to do, a lot of planning, and a lot of logistical work that lies ahead!
I'm so proud of what we were able to achieve together in 2023. And I'm eternally grateful to all who helped SIR this year; our volunteers were brilliant; our artists and crew were warriors; our Board provided immense support; our donors and friends really came through; and our office staff – Sara Malabar and Seraph-Eden Boroditsky – worked very hard to make sure everything was possible and joyous for us all.
Thank you all. And I can't wait to make more memories with you soon. And oh, as 'tis my duty, if you feel so inclined and able to help us make dreams into reality, please visit our website and click on 'DONATE'.
We exist for you. This is your Shakespearean company.
Xo
Rodrigo
ad@sirmb.ca