2022 RAFFLE
The Ultimate Staycation Experience
Win the ultimate staycation experience with a 3 day, 2 night stay at a cozy cottage with a lake view. This ultimate staycation includes:
A 3 day, 2 night stay in the Fall of 2022 (excluding Thanksgiving and Remembrance Day weekends.) at a gorgeous a-frame cottage with 3 Bedrooms, 3 Full Bathrooms and 2 Sofa beds courtesy KALS Vacation Rentals.
A personal chef experience with Owen Campbell featuring fresh ingredients from Fort Whyte Farms.
Wines chosen by a sommelier to pair with your meal provided by Liquor Mart.
4 hours of personal therapeutic massage with an RMT on location at the cottage.
4 books selected to your tastes by the experts at McNally Robinson based on their popular Bookseller Box program.
This prize is valued at $2000
Tickets: $25.00
ON SALE DURING PERFORMANCES @ THE RUINS – JUNE 2nd to JULY 2nd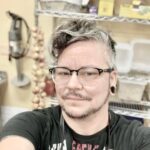 Owen Campbell is a chef, culinary educator, and the Kitchen Program Manager at FortWhyte Farms, who grew up learning how to cook beside his army chef dad. He's excited to show you what he can do with FortWhyte Farms fresh ingredients, a bit of love, and maybe an army ration or two.
This raffle is being held according to the rules and guidelines set out by the Liquor, Gaming and Cannabis Authority of Manitoba (LGCA). The license number is LGCA 3999-RF-37808. There are 400 tickets available at $25.00 per ticket. The last ticket will be sold at the Trappist Monastery Provincial Heritage Park on July 2nd, 2022 at 6:30PM. The draw will take place the same night, July 2nd, 2022 at 6:50PM. If the winner is not in attendance they will be notified by email on Monday, July 4th, 2022.