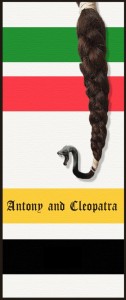 FALL SCHOOL TOUR: Oct & Nov 2017
PUBLIC PERFORMANCES:
Nov 10 @ 8pm & Nov 11 @ 2:30pm and 8pm, 2017.
Asper Theatre, University of Winnipeg. 400 Colony.
$15 tickets. email gm@sirmb.ca or call 204-957-1753 to reserve.
Directed by Michelle Boulet
Set in pre-confederation Manitoba and featuring original music, this timeless tale of love amidst the back-drop of war has the fur-traders representing the Romans and Indigenous actors filling the role of the Egyptians. A fitting production to highlight Canada's 150th Anniversary of confederation it will no doubt leave the students with much to discuss
click here to see photos from past productions of this show.
Teachers: We're booking now! If you would like more information about booking this tour for your class in Fall 2017 please email us at admin@sirmb.ca.